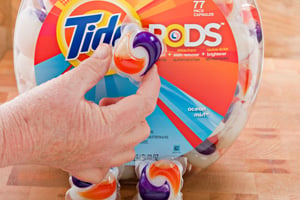 Laundry Pods Are Too Risky for Young Children, Says Consumer Reports
Have you ever purchased laundry pods—those small plastic packets containing liquid detergent—for use in your washing machine? These items have been a common feature on store shelves for a number of years, but according to a recent report from NPR, they can cause serious and life-threatening child injuries. In fact, Consumer Reports will no longer recommend the use of these products because "the risks to small kids are just too high."
As Consumer Reports points out, the laundry pods are in fact very good at cleaning, but safety is the much larger issue. Companies have changed the packaging of their products to keep kids away, and they have even tried to raise awareness about the potential product dangers for young children. Despite these efforts, "the number of health incidents involving the pods continues to climb." As NPR highlights, the pods look a lot like candies, fruit snacks, and other children's products that are safe for consumption.
Hazard Risks and Unintentional Pediatric Poisonings
Through June of 2015 alone, the American Association of Poison Control Centers (AAPCC) has already received more than 6,000 incident reports "involving pods and kids younger than 6." What does it mean when a child is exposed to one of these products? The AAPCC defines the term broadly to include the following:
Ingestion
Inhalation
Contact with eyes and skin
After children are exposed to laundry pods, they can develop health problems that include "wheezing, gasping, extreme sleepiness, vomiting, and corneal abrasions." If the number of incidents continues at the current pace, the US will see more than 11,714 incidents involving laundry pods this year (surpassing the number of incidents identified in 2014).
According to a memo issued by the Consumer Product Safety Commission (CPSC), about 80,000 pediatric poisonings required emergency room treatment in 2013 from regular medications and household products. These injuries include poisonings and chemical burns. The CPSC maintains a list of the products most frequently associated with unintentional child poisonings. In order of the most dangerous, the list includes the following:
Acetaminophen;
Blood pressure medications;
Anti-depressant medications;
Narcotic medications;
Bleach;
Ibuprofen;
Laundry pods;
Sedatives and anti-anxiety drugs; and
Clearly, laundry packets make the list of top products likely to result in an unintentional child poisoning. NPR and the AAPCC provide the following statistics about the annual harms from laundry pods alone:
6,343 exposures in 2012
10.395 exposures in 2013
11,714 exposures in 2014
6046 exposures as of June 2015
Given the unequal risk-to-reward ratio of using laundry packets, Consumer Reports underscored that it "strongly urge[s] households where children younger than six are ever present to skip them altogether."
If your child sustained an injury caused by a household product, contact an experienced product liability lawyer to determine your rights. You may be eligible to seek financial compensation on behalf of your child.