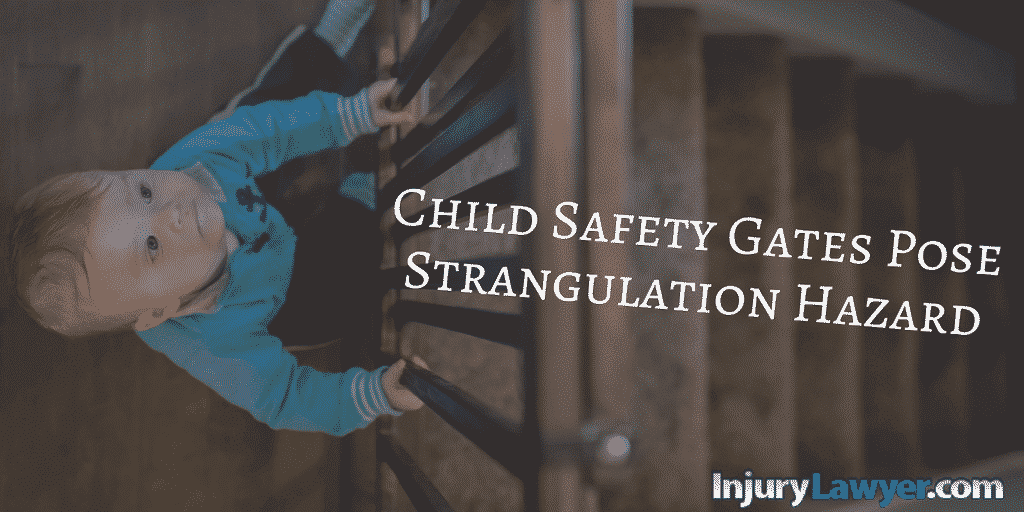 Children's Product, Designed to Make Kids Safer, Recalled Due to the Risk of Strangulation
Do you have baby safety gates in your home to prevent your toddler from sustaining a serious child injury in a room of the house that has not been baby-proofed or to prevent your child from accessing a staircase? You should be aware that more than 25,000 children's safety gates were recently recalled "due to entrapment and strangulation hazards to young children," according to a report from NBC 10 Philadelphia. What else do you need to know about the product defect?
As the recall explains, "a young child's neck can fit into the 'V' shaped opening along the top edge of the gate," and a toddler easily could place his or her head into this area. Once the child's head is in the 'V' shaped opening, your toddler's head could get stuck, and he or she could sustain strangulation injuries while entrapped in the product. In addition to these hazards, the report indicates that the safety gate does not even do what it is supposed to do every time it is used. "Young children can also pass under the gate allowing access to restricted areas, such as stairs."
The safety gates at issue are the "Madison Mill 23" and "Madison Mill 25," which are foldable, expandable safety gates. They were sold at a variety of independent hardware stores across the country between January 2013 and May 2017. The retail price for the safety gates ranged from $20 to $35. If you believe you may have purchased one of these safety gates, it is extremely important to stop using it immediately. You should also contact the company, Madison Mill, to receive a refund of your purchase price.
Safety Steps for Baby-Proofing Your Home
Parents often buy safety gates to ensure the safety of their children in the home. When safety gates are subject to product defects and recall, however, questions about child safety in the home can become more immediate. According to an article in Parents Magazine, the following are some helpful tips for "baby-proofing" your home, or making it safer for your toddler or young child:
Use safety gates—ones that have not been subject to product recalls—at the head and foot of staircases;
Install smoke detectors and carbon monoxide detectors on every floor of your house;
Cover electrical outlets in your home with plastic caps to prevent an electric shock injury;
Store paints and any other hazardous substances in airtight containers, and keep them on high shelves in an area that is cool and dry;
Install latches on kitchen cabinets and drawers that contain any harmful products;
Place stove-knob covers on burners to prevent your child from turning on the stovetop;
Use cordless blinds to avoid strangling hazards;
Always use heavy-weight picture hooks to prevent any pictures from falling and injuring your child;
Secure electrical cords with electric tape away from where your baby plays; and
Check to ensure that your child's crib meets current safety standards.
In the event that your child suffered injuries in an accident involving a recalled safety product like the safety gates mentioned above, contact a child injury lawyer to discuss your child's situation.