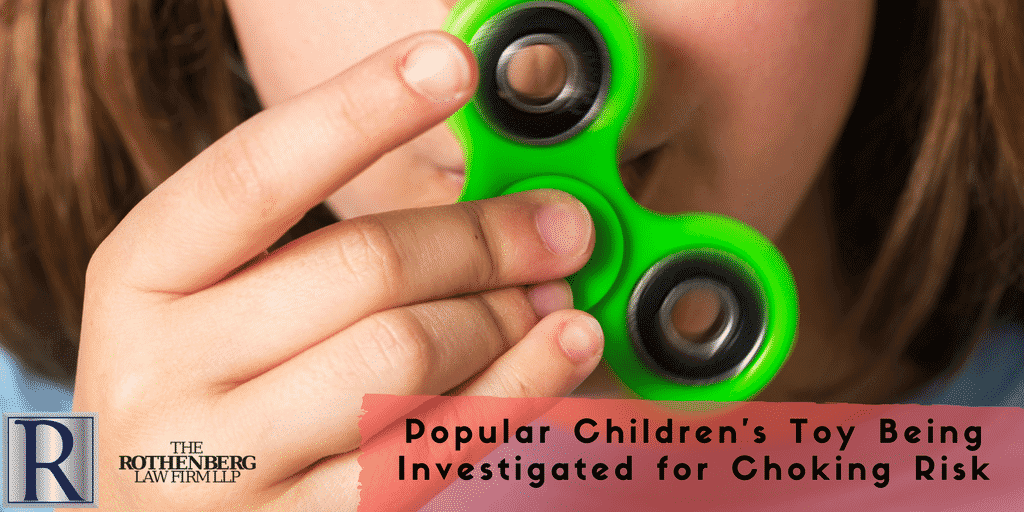 Consumer Product Safety Commission Launches Investigation into the Choking Risks of "Fidget Spinners."
You may have noticed kids in your neighborhood playing with fidget spinners, what a recent news report describes as "the season's hottest toy." However, as that report explains, the Consumer Product Safety Commission (CPSC) is investigating fidget spinners for choking risks. Young children are not choking on the entire fidget spinner, but rather the metal pieces within the device that can become free when the toy's metal bearings loosen. The choking risk could mean that the toy has a product defect which requires an appropriate warning.
According to a report from ABC News, two separate incidents have occurred in which children have swallowed parts of the fidget spinners. In response, the CPSC issued a statement: "We advise parents to keep these away from young children because they can choke on small parts. Warn older children not to put fidget spinners in their mouths." Fidget spinners can cause serious injuries, and according to Scott , a clinical psychologist at Duke University, they may not even have any benefits for kids.
Kollins is also director of Duke's ADHD program, and he addressed the notion that fidget spinners can help children who suffer from ADHD and other certain mental health conditions. Kollins suggested, fidget spinners do not have this benefit: "There has been no research into the efficacy or safety of these toys to help manage the symptoms of ADHD, anxiety, or any other mental health conditions in children (or adolescent, or adults, for that matter)." Kollins went on to explain: "The observations by parents or teachers [that fidget spinners do have such benefits] are interesting, but without carefully controlled studies, it's impossible to draw any sorts of conclusions about whether these toys are useful, and it's hard to imagine any sort of reasonable rationale as to why they would offer benefit."
In other words, fidget spinners may pose a serious risk of child injury and choking, and there is no proven information that they provide any benefit.
Preventing Choking Injuries in Children
According to an FAQ sheet from Nationwide Children's Hospital, a choking hazard is defined as "any object that could be caught in a child's throat blocking their airway and making it difficult or impossible to breathe." Foods often are choking hazards, and the hospital recommends avoiding the following foods for kids aged 4 or younger:
Hot dogs;
Nuts and seeds;
Chunks of meat or cheese;
Whole grapes;
Sticky candy;
Popcorn;
Chunky peanut butter;
Raw vegetables;
Raisins;
Chewing gum; and
Marshmallows.
Other common household objects that can pose choking hazards and should be avoided include:
Latex balloons;
Coins;
Marbles;
Toys that have small parts;
Toys that can be compressed to a size that is small enough to fit in a child's mouth;
Pen caps or marker caps;
Small balls;
Small batteries ("button" batteries);
Medical syringes; and
Hair barrettes and other accessories.
Keep your children safe this summer! Avoid choking hazards at all costs.