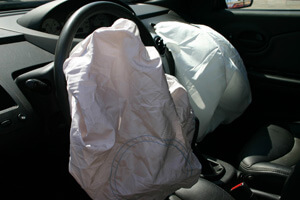 Recall Expands for Exploding Airbags
Defective automobile parts can result in major car accidents, severe injuries and even death. The Japanese air bag manufacturer Takata, which produces air bags for many Honda and Toyota models, has been linked to a deadly product defect. Initial news of a massive recall appeared earlier this summer. This recall is even broader and more far-reaching than many in the auto-industry and even government suspected.
According to a recent article in the New York Times, Takata explained that a 2004 incident involving an exploding airbag in a Honda Accord that seriously injured the driver, was merely an "anomaly." Given that the manufacturer did not link the exploding airbag to an inherent problem with the airbags, it did not issue a consumer recall. However, the rising number of injuries and deaths linked to the exploding Takata airbags makes it clear that the manufacturer made a life-threatening decision when it failed to recall its products.
Two deaths and more than 30 injuries have been associated with ruptured air bags in Honda models alone, and nearly 40 consumers complained of "ruptured or spewed shrapnel or chemicals" from the defective product. One victim's family filed a lawsuit after the victim died as a result of injuries sustained from the exploding airbags.
For many years, reports of injuries stemming from the defective airbags were not disclosed to the public. In fact, according to The New York Times, Honda settled lawsuits for confidential financial amounts with people who were injured by the airbags, but it did not issue a safety recall until late 2008. The 2008 recall was not broad enough, and more drivers have sustained serious and fatal injuries from the dangerous product.
History of Airbag Recalls
Takata airbags have been recalled in increasing numbers over the last five years. The trend proceeded as follows:
In 2008, 4,205 vehicles were recalled due to faulty air bags;
By 2009, that number increased dramatically to more than half a million automobiles;
A short time later, in 2010, the number of vehicles recalled climbed to 1,005,000;
That number nearly doubled again in 2011, with almost 2,000,000 recalls;
By 2012, the recall grew to 2,818,000 automobiles;
2013 saw another huge jump in the number of cars recalled, with the number rising to 6,399,000; and
As of September 2014, 14.2 million vehicles equipped with Takata air bags have been recalled.
Of the models currently recalled, Hondas and Toyotas are implicated more than any other type of vehicle. More than 6,000,000 Hondas were subject to a recall, as were 4,410,000 Toyotas. Other automakers that issued recalls include BMW, Nissan, Chrysler, and Mazda.
The statistics surrounding Takata air bags and the related deaths suggest that airbags are not subject to recalls as often as they should be. If your vehicle was recalled because of a defective airbag, contact your dealer immediately. If you or a loved one suffered injuries because of a defective airbag, contact an auto product liability lawyer to discuss the possibility of filing a lawsuit to seek financial compensation.