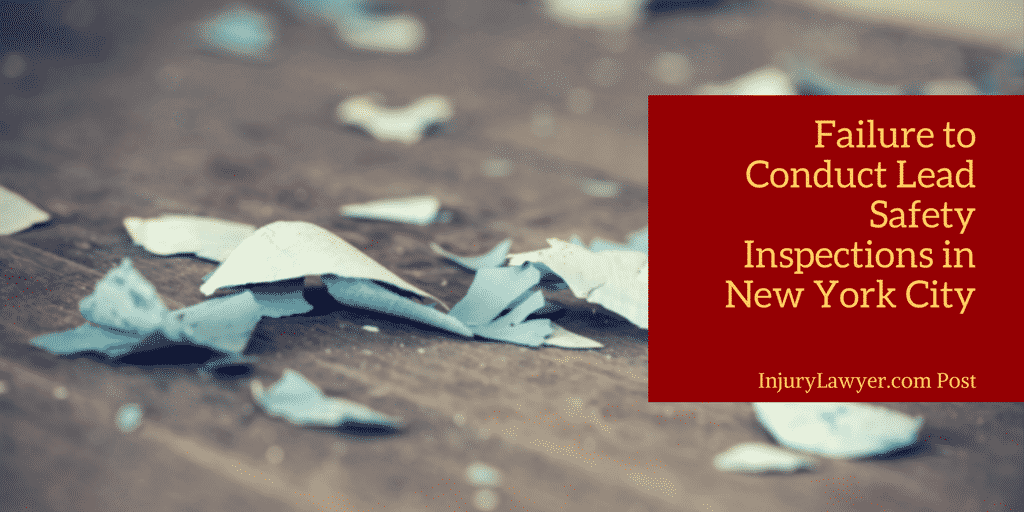 Long Overdue Lead Inspections Needed in Thousands of New York Homes
How important is it to have the paint in your older home tested for lead? If there are young children living in the house, lead testing is extremely important and failure to conduct proper testing can lead to serious lead poisoning injuries. According to a recent article from Pix 11 News, a report recently came out that indicated "the New York City Housing Authority failed to conduct lead paint safety inspections for six years." Now, according to the article, the NYCHA will be inspecting thousands of homes where there are children under the age of six currently residing.
The report determined that the problem goes beyond the NYCHA failing to conduct the safety investigations for the last four years. According to DOI Commissioner Mark Peters, "it's very clear that NYCHA knew they were out of compliance and nonetheless decided to certify that they were in compliance."
When we say that thousands of apartments and other homes will need to be inspected, we are talking about numbers in the tens of thousands. The report concludes that approximately 55,000 different apartments in New York did not have proper lead safety inspections. Residents of those apartments were informed of upcoming inspections, and they were also told that the NYCHA "would exercise the right to enter" by "remov[ing] and replacing door locks."
Getting the Facts About Lead Poisoning and Child Injuries
Why are lead paint inspections so important, especially in homes where young kids reside? According to a fact sheet from the World Health Organization (WHO), "young children are particularly vulnerable to the toxic effects of lead and can suffer profound and permanent adverse health effects, particularly affecting the developing of the brain and nervous system." Lead poisoning is also damaging to adults, who can be at increased risk of high blood pressure and kidney disease. Here are some key facts from the WHO about lead poisoning:
Lead is a naturally occurring toxin that has a cumulative effect on the body;
Lead is usually stored in the body's teeth and bones, accumulating over time as it is distributed to other areas of the body like the brain, liver, and kidneys;
Lead stored in the bones can cause lead poisoning in a fetus during pregnancy;
No known level of lead exposure is safe; and
Exposure to lead, and lead poisoning, is preventable.
The Mayo Clinic cites the following as symptoms of lead poisoning in kids:
Developmental delays;
Learning difficulties;
Irritability;
Appetite loss;
Weight loss;
Feelings of sluggishness of fatigue;
Abdominal pain;
Vomiting;
Constipation;
Hearing loss; and
Seizures
Symptoms in adults, according to the Mayo Clinic, can also include abdominal pain, in addition to:
High blood pressure;
Joint and/or muscle pain;
Memory or concentration problems;
Headaches; and
Mood disorders.
If you or someone you love was exposed to lead and shows symptoms of lead poisoning, you should discuss your case with a personal injury lawyer to determine your rights.