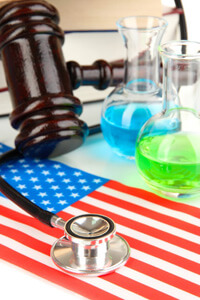 Pharmaceutical Facility Inspection Leads to Manufacturer Warning
After a recent inspection of a pharmaceutical manufacturing facility belonging to Endo International PLC, the U.S. Food and Drug Administration (FDA) issued a warning letter to the company. The facility, located in Minnetonka, Minnesota, allegedly "violated three federal regulations governing how it manufactures some of its urological devices." The April 10, 2014 warning mentioned concerns about transvaginal mesh products. The pharmaceutical facility is run by a subsidiary of Endo, American Medical Systems Inc. (AMS), which has been in the news because of its involvement in more than 14,000 lawsuits alleging injury from defective transvaginal mesh products.
What are the recent violations? First, the FDA identified a violation involving Endo's manufacturing process validation. In other words, the company did not have its manufacturing process properly validated according to "established procedures." Second, Endo failed to perform an adequate risk analysis for its product design. And third, Endo has failed to take "corrective and preventive action" when it comes to quality concerns and manufacturing problems. The potentially defective devices include the AMS 800 Urinary Sphincter and the AMS 700 Inflatable Penile Prosthesis.
Many of these violations mirrored issues involved in AMS transvaginal mesh lawsuits, suggesting that the company may not be adequately protecting consumers from defective medical devices. In particular, patients who have sustained injuries from defective transvaginal mesh products have alleged that AMS failed to properly test the safety of its products.
Transvaginal Mesh Facts and Risks
What is transvaginal mesh? Transvaginal mesh is a type of surgical mesh that is implanted through the vagina. It is used to treat pelvic organ prolapse and stress urinary incontinence. Pelvic organ prolapse is a condition in which the pelvic muscles become weakened and organs such as the bladder and uterus begin to drop. These conditions tend to affect women who have had a hysterectomy or who have recently given birth.
According to an article written by Denise Mann and reviewed by Laura J. Martin, M.D. on WebMD, risks of transvaginal mesh likely outweigh any benefits. Indeed, risks can include "mesh protruding out of the vaginal tissue, pain, infection, bleeding, pain during sexual intercourse, organ perforation from tools used in the mesh placement, and urinary problems." Many women who have used transvaginal mesh to repair pelvic organ prolapse or stress urinary incontinence have required additional surgeries to treat side effects and complications from the initial transvaginal mesh placement.
Transvaginal mesh is a permanent implant, and even with additional surgeries, it may not be possible to completely remove it or to resolve all of its adverse effects, according to William Maisel, the deputy center director for science at the FDA Center for Devices and Radiological Health. The FDA issued its first warning about transvaginal mesh safety in 2008. By 2010, at least 100,000 cases of pelvic organ prolapse had been repaired with surgical mesh, and 75 percent of these repairs were transvaginal.
Legal Recourse:
New medical devices appear on the market every year. Many of these new products have greatly benefited patients. Unfortunately, not all of these new medical products are safe and effective. At times, medical products may cause personal injuries especially when they have design defects, manufacturing defects, or marketing defects. In fact, over 14,000 lawsuits have been filed thus far against the manufacturers of transvaginal mesh for the harm that this product has caused thousands of women across the United States. If you or a loved one has sustained injuries from a transvaginal mesh surgery, it is important to contact a defective medical product liability attorney. You may be able to file a claim for compensation.