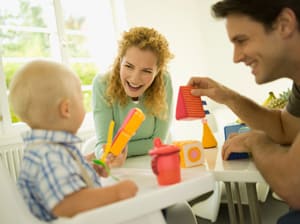 Hidden Dangers in High Chairs and Children's Products
When you buy a high chair for your child, you should not have to worry about whether the product will cause injuries to your infant. However, child product defects occur more often than they should, and it is important to stay up-to-date on dangerous defects and product recalls. According to a
Young family with baby boy in a high chair
recent report from CBS News, the U.S. Consumer Product Safety Commission (CPSC) fined a popular high chair maker for failing to report a potentially deadly defect.
The child product manufacturer, phil&teds USA, will pay a $3.5 million fine for the company's intentional failure to report the high chair defect. The product maker is also alleged to have "knowingly made material misrepresentations to agency staff during an investigation of the high chair." When a company learns that one of its products might pose a risk of serious injury or death to consumers, it is required to report the potential defect to the CPSC.
The high chairs at issue are the "MeToo" models. By the time phil&teds recalled the high chairs back in 2011, it is alleged to have known about 19 separate incidents in which the seats dislodged, in addition to two separate incidents in which babies suffered finger amputations after one side of the seat dislodged. The high chairs initially were sold for around $40 to $50 a piece between May of 2009 and January of 2011.
If you are still in possession of one of these high chairs, it is important to stop using it immediately. Likewise, if you are in the market for used baby furniture, it is important to be aware of this serious defect when you look for used high chairs.
While the CPSC assessed a $3.5 million penalty, the agency agreed to "severely reduce" that number after phil&teds said "that if it paid more than $200,000 it would be forced to go out of business."
Learning More About Children's Products and High Chair Safety 
The CPSC indicates that children's products, a category that includes high chairs, "are subject to a set of federal safety rules called children's product safety rules." How do these laws define what constitutes a children's product? According to the CPSC, children's products that are subject to these specific safety rules are consumer products that are designed or intended for kids aged 12 and younger. When determining whether a product has been designed or intended for children aged 12 or younger, the CPSC looks at some of the following:
The manufacturer's statement about the product's use, including labeling on the product;
Whether the product appears appropriate for kids aged 12 years and younger based on its packaging, display, promotion or advertisement; and
Whether consumers commonly recognize the product as being intended for use by kids who are 12 years old or younger.
In general, high chairs tend to meet these specifications. How can you be sure that your child does not suffer a serious injury in a high chair? In addition to heeding all recall notices, a fact sheet from the American Academy of Pediatrics recommends some of the following tips for safely using a high chair:
Ensure that the chair cannot easily tip.
Lock the chair every time you set it up if it is a folding high chair.
Always use the safety straps when your child sits in the chair.
Do not leave a child alone when she or he is in the chair.
Do not place the chair close enough to a table or countertop, as your child may be able to push against those surfaces to tip the chair.
If your child suffered an injury from a dangerous product, contact an experienced product defect lawyer to determine your rights.