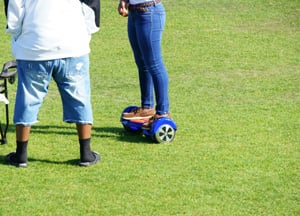 New Attention to Hoverboard Dangers
Hoverboards are a hot commodity and were one of the most popular consumer toys or gadgets this past holiday season. However, according to a recent report in USA Today, the Consumer Product Safety Commission (CPSC) just released an official notice following its months-long investigation into safety concerns surrounding this dangerous product.
What did the CPSC have to say about hoverboards? The CPSC instructed hoverboard retailers, manufacturers, and importers that they will need to follow new safety standards when making and selling these self-balancing scooters. If these standards are not followed, anyone making or selling these products will be subject to enforcement actions, which can include "seizure of the devices, as well as civil and criminal penalties."
The article emphasizes that the CPSC's ultimate conclusion is that "no hoverboard currently on the market can be deemed safe." These devices not only pose serious risks of falls, which can result in traumatic brain injuries and broken bones, but they also have been reported to randomly burst into flames. The article indicates that at least 52 fires have been linked to hoverboards, and those fires have resulted in more than $2 million in property damage. The CPSC also stated that the lithium-ion batteries that power hoverboards "pose an unreasonable risk of fire to consumers" and it is considering a recall of hoverboards in the United States. At the very least, products that do not meet the newly released standards may be subject to "detention."
Important Safety Tips for Hoverboard Use
The recent CPSC notice concerning hoverboard hazards was drafted following research conducted by UL, a "global independent safety science company with more than a century of expertise innovating safety solutions." Given that this company helped to develop the safety standards currently being used by the CPSC with regard to hoverboard devices, it is important to consider safety tips provided by UL. The following are significant ways to reduce the risk of injury if you do own a hoverboard:
Do not charge the hoverboard near any flammable materials, such as nail polish remover, rubbing alcohol, paint thinner, gasoline, lighter fluid, and aerosol cans.
Do not overcharge the hoverboard. It is extremely important to follow the recommended charging time provided by the manufacturer and to unplug the device when charging has finished. These recommended times can be found in the product manual.
Do not store any clutter near the hoverboard while it is charging, including drapes, bedding, and carpet.
Do not charge the hoverboard overnight.
If you notice anything out of the ordinary, such as smoke, leaking, sparking, heat, or odors coming from the hoverboard, stop using the device immediately and call 911 and leave the area.
Only use the power supply that came with the hoverboard.
Legal Recourse:
If you or someone you love sustained injuries as a result of a defective hoverboard, contact an experienced  product liability lawyer to determine your rights.