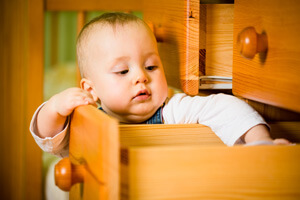 According to a recent article in Forbes Magazine, IKEA recalled 27 million of its Malm-style dressers. This particular design is at risk of tipping and falling onto children—a problem that has led to the death of two children in the last year. According to the retailer, "if too many drawers are pulled out
or if too much weight is pulling on the front of the furniture, the dressers can fall forward and crush children if the dresser is not anchored to the wall."
This recall is slightly different than some of the others we have seen in recent years. In many recall situations, the product maker will take back the defective item or provide some form of compensation. In this case, however, IKEA North America's "repair program" is offering to provide consumers with a "wall anchoring kit" for a number of its Malm-style dressers. In other words, in order for this large piece of furniture to be safe in households with children, consumers need to physically anchor the product to the wall.
The Malm chests of drawers are among some of the most popular bedroom furniture sold by IKEA, and thousands of households contain these dressers. Since 1989, IKEA and the Consumer Product Safety Commission (CPSC) reportedly know of three deaths caused by other models of IKEA dressers that tipped over. Last year, however, the CPSC and the retailer received its first report of the Malm dresser problems.
In February, a two-year-old boy suffered fatal injuries when a six-drawer Malm dresser tipped over and pinned the boy against a bed. Only a few months later, a 23-month-old boy died after becoming trapped underneath a three-drawer Malm dresser. Fourteen other reported incidents led to four additional injuries. IKEA recommends that parents move any un-anchored dressers into closets or other areas that are not accessible to kids until they obtain an anchoring kit and successfully affix their products to the wall.
Child Injury Data
According to the CPSC, "a child dies every two weeks and a child is injured every 24 minutes in the U.S. from furniture or TVs tipping over." Furthermore, based on a fact sheet from The Centers for Disease Control and Prevention (CDC), unintentional injuries—from tipping furniture to poisonings to traffic collisions—are "the leading cause of morbidity and mortality among children in the United States."
What are some important facts and figures to keep in mind about child injuries in the US? The CDC emphasizes the following:
More than 12,000 people between the ages of 0-19 die each year as a result of unintentional injuries.
Every year, more than 9.2 million children and teens require treatment in an emergency department for serious but nonfatal injuries.
Males between the ages of 0-19 have a higher risk of death from an unintentional injury than do females. The CDC found that "the death rate for males was almost two times the rate for females."
Transportation-related injuries are the leading cause of death among children and teens.
For kids under the age of one, suffocation is the leading cause of fatal unintentional injuries.
Among children aged one to four years old, drowning is the most common cause of death.
Car accidents are responsible for the largest number of fatal injuries among kids aged 5-19 years old.
If you own the recalled IKEA dresser, contact IKEA immediately to receive your wall anchoring kit. Moreover, if your child was injured as a result of a dangerous product contact an experienced product defect lawyer to determine your rights.