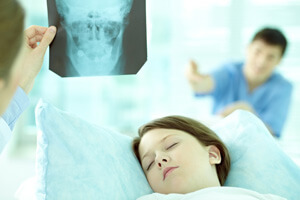 CPSC Tackles Child Injuries in Proposed Ban
When should a hazardous product be banned due to safety concerns? A recent article in USA Today stated that the Consumer Product Safety Commission might ban "high-powered magnets like those found in popular desk toys." The CPSC cited deaths related to ingestion of the magnets, many made by the company Buckyballs, in a proposed final rule that has now been sent to the full commission for review. Magnets made by Buckyballs were recalled back in July.
The magnets of the type described by the proposed ban pose serious choking risks for small children. In addition to the obvious choking hazard, the magnets can also cause other problems when they are ingested. For example, last year a 19-month-old girl died after swallowing seven magnetic balls from a necklace. The toddler arrived at the hospital unresponsive, with "blood coming from her nose and mouth." An autopsy showed magnets in her small intestine, which became attached to one another and caused a perforation in the child's bowel.
Product Liability Claims and CPSC Regulation
Any company that wants to sell products regulated by the CPSC, may be required to report certain cases of injury connected to the items it is selling. Furthermore, once the company is made aware of any injuries associated with its product, it may need to report safety concerns to the CPSC.
When must a business report potential safety concerns to the CPSC? Under Section 15(b) of the Consumer Product Safety Act (CPSA), manufacturers, importers, distributors, and retailers must report safety issues to the CPSC under certain circumstances. Specifically, when a company knows about one of the following, it must submit a report to the CPSC:
The product fails to comply with a consumer product safety rule or voluntary consumer product safety standard.
The product fails to comply with the CPSA or other specific laws related to product safety.
The product contains a defect that could create a substantial hazard.
The product creates an unreasonable risk of serious injury or death.
In certain cases, manufacturers must also file reports about settled or adjudicated lawsuits related to dangerous consumer products under Section 37 of the CPSA. In addition, the Child Safety Protection Act requires that, in certain cases, companies must report choking accidents to the CPSC.
Under the Child Safety Protection Act, a manufacturer, distributor, importer, or retailer of a small ball, marble, latex balloon, or other small part must report information about incidents that fit the following conditions:
A child choked on the small object at issue; and
Because of the choking incident, the child "died, suffered serious injury, ceased breathing for any length of time, or was treated by a medical professional."
Preventing Child Choking Incidents
How can you prevent choking incidents? The Mayo Clinic emphasizes that the first step is knowing the most common causes of infant choking, which include:
Ingesting small objects not intended for children;
Ingesting small parts from toys; and
Eating while distracted.
The Mayo Clinic suggests that parents can take some of the following steps to prevent serious and fatal choking incidents at home:
Do not give babies high-risk foods, such as large items or grapes, unless they are cut up into small pieces.
Always supervise your infant during mealtime.
Evaluate your child's toys for choking hazards and do not permit your child to play with toys that contain latex balloons, small balls or marbles, or other small objects that are intended for older kids.
Keep all dangerous items out of the reach of young children, such as pen caps, coins, and other small objects that could be ingested.
Seeking Legal Advice for a Child Injury Caused by a Defective Product
Can parents file a product liability claim for injuries resulting from dangerous items like Buckyballs? Depending on the circumstances, you may be able to file for financial compensation. It is devastating when hazardous products result in serious and fatal child injuries. Therefore, if your child choked on a dangerous product that may be subject to a recall or CPSC ban, you should speak to a product liability attorney at the Rothenberg Law Firm to discuss your rights.