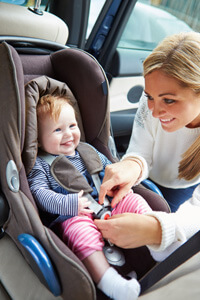 Last year, Graco recalled almost 6 million car seats due in large part to a safety defect. The recall began with around 3.8 million car seats, but it grew over the course of 2014. When the buckle mechanism on the car seats came into contact with foods or liquids, parents were not able to free their children from the car seat straps. Indeed, a number of parents reported having to cut the straps on the car seat in order to remove their children from the defective device. One tragic report indicated that an infant died in a vehicle fire when he could not be removed quickly from the dangerous car seat product.
Now, it looks as though Graco might not have done all it should have when it comes to product recalls and consumer safety. Indeed, the National Highway Traffic Safety Administration (NHTSA) is investigating Graco's handling of the recall.
Issue of Timeliness and Federal Investigation
The National Traffic and Motor Vehicle Safety Act requires that as soon as a product manufacturer learns about a safety defect in one of its products, it must notify NHTSA within 5 days. In fact, the company has "a maximum of five business days" to give notice of a safety defect to NHTSA, according to an article in Consumer Affairs. Graco may not have abided by this requirement.
The notice period is supposed to prevent severe and deadly accidents from taking place after a manufacturer has learned of a safety defect. However, according to Transportation Secretary Anthony Foxx, NHTSA has concerns about Graco's timeliness. As he explained, "any delays by a manufacturer in meeting their obligations to report safety issues with the urgency they deserve—especially those that impact the well-being of our children—erodes that trust and is absolutely unacceptable."
If NHTSA does conclude that Graco failed to report the defect in a timely manner, the manufacturer could receive a fine of up to $35 million.
Filing a Lawsuit Against Graco
How will the investigation into the timeliness of Graco's defect reporting affect product liability lawsuits? If a child suffered severe or fatal injuries because of the car seat buckle defect, the parents may be able to seek financial compensation by filing a product liability claim. An experienced product liability lawyer can explain your options concerning what grounds you can sue the manufacturer. In the situation of the car-seat buckle, if the defect occurred in the design of the product—before it was manufactured—then the case will likely be one based on a design defect. If the safety defect occurred during the manufacturing phase - if, for instance, the buckles were not manufactured correctly - then the case will likely be based on a manufacturing defect.
Damage Awards and Punishing Egregious Conduct
A product liability lawsuit entitles a plaintiff to seek compensatory damages. Generally speaking, compensatory damages are just what they sound like: they compensate a plaintiff for his or her losses. But in some cases, where a company's conduct was especially egregious, plaintiffs also can be awarded punitive damages.
In general, punitive damages are limited to the most egregious cases, and juries usually only award them when a defendant has been malicious or so reckless that a jury thinks the defendant should be punished. While compensatory damages compensate a victim, punitive damages punish the defendant for its egregious conduct.
If Graco failed to timely report the safety defect in its car seats, will injured plaintiffs be eligible to seek punitive damages? In other words, was this conduct so egregious that Graco should be punished in addition to the fine it may receive from NHTSA? While we wait to see the results of the federal investigation, it is an interesting issue to consider.
Contact a Product Liability Attorney
If you or one of your children was injured by a defective product, contact a product defect attorney at the Rothenberg Law Firm to determine your rights.