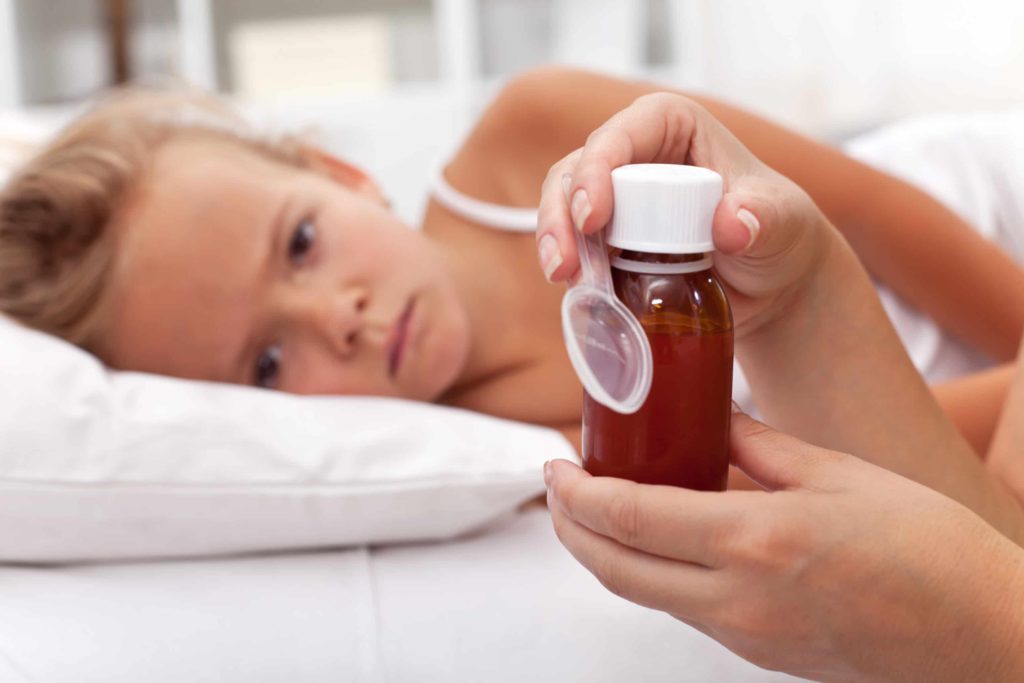 Dangerous Children's Medicines Recalled After Contamination Reports
Is your child currently using a King Bio medicine? Whether your child is currently taking one of these medications or could end up taking one in the near future, it is important to know about a product recall.
According to a report from Newsweek, "more than 30 King Bio medicines for children and infants were recalled after a 'small percentage' of the medicines tested positive for microbial contamination." The U.S. Food and Drug Administration released a statement about the potentially dangerous drugs recalled in 2018 that could pose a risk to your child. The statement emphasizes that although the FDA has not receive reports of illness or injury, it is possible that children could become severely ill if they take a drug involved in the recall.
The list of recalled children's medicines is a long one, including drugs designed for "chicken pox relief, sleep aids, and appetite enhancers." Additional recent drug recalls include medicines for children's cough relief, children's fever reducer, nosebleed relief, sore throat and ear relief, teething relief, colic, multi-strain flu relief, stress and anxiety relief in children, and many others. Given that so many different children's medicines have been subject to the recall, it is extremely important for parents and caregivers to visit the FDA's website to see the list of medicines recalled. The list from the King Bio recall contains specific UPC codes and lot numbers for each of the recalled products. All of the potentially dangerous drugs involved in the the recent drug recalls from 2018 were manufactured between August 2017 and April 2018.
The FDA has not indicated what specific infections could result from use of the recalled children's medicines, but the FDA did indicate that "administration or use of drug products with microbial contamination could potentially result in increased infections that may require medical intervention, and could result in infections that could be life threatening to certain individuals." While the FDA does not provide specific symptoms that could indicate an illness caused by the medicines recalled and contaminated, parents and caregivers should seek medical advice if they notice any common signs of infection such as fever, chills, a cough, a sore throat, or congestion.
If you have one of the medications involved in the King Bio recall in your home, do not use it. If you believe your child took one of the drugs listed, you should contact your child's pediatrician and the FDA.
Understanding Drug Recalls in 2019
What is a drug recall, and how can parents distinguish between serious drug recalls and recalled medicines that may not have an impact on their children? According to an article from MedicineNet, parents and caregivers should not attempt to determine whether recent drug recalls in 2019 can pose risks themselves, but instead should stop using the product and should speak with the child's pediatrician about further use of the recalled children's medicines.
According to the FDA, a drug recall is defined as "a voluntary action taken by a company at any time to remove a defective drug from the market." There are three different classifications of recalled medicines:
Class I recall: the most immediate and dangerous drug recall which signals that the medication could result in serious injury or death;

Class II recall: an intermediate drug recall where there is a possible risk of serious injury, but the safety risk is less immediate; and

Class III recall: the least urgent of all drug recalls in which there is not a high likelihood that the drug can cause injury, but it may have an error in labeling, for example.
If your child or another family member suffered an injury after using a medicine that was subject to a recent drug recall in 2019, you should speak with a product liability lawyer about your case.