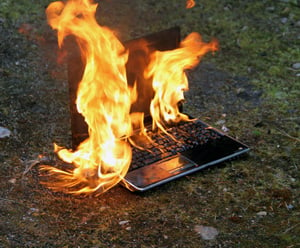 Computer Recall Due to Battery Overheating
If you use a laptop that contains a lithium-ion battery, do you need to be concerned about your personal safety or a product liability issue? Generally speaking, consumers should not have to worry about sustaining an injury when they are using a product—such as a laptop computer—as it was intended to be used. However, Toshiba has recently recalled more than 100,000 laptops because of the risk of consumer injury from overheating lithium-ion batteries after the U.S. Consumer Product Safety Commission (CPSC) issued a public recall announcement aimed at more than 90,000 Toshiba computer users in the United States and an additional 10,000 users in Canada.
Specifically, the Satellite, Tecra, and Portage models have been impacted by the recall. While Toshiba issued the recall, the dangerous batteries were not made by the computer company. Rather, the batteries were manufactured by Panasonic. Toshiba indicated that 39 different laptop models may be impacted by the recall. As such, it is extremely important for consumers to determine whether they are currently using one of these hazardous products.
How can you be sure if your computer is included in this recall? These computer models were sold between June 2011 and January 2016, both online as well as in stores. Moreover, Toshiba has a website tool that allows consumers to enter information on their laptop to determine whether their product has been affected by the recall.
What are the risks of using one of these recalled computers? According to reports, "these laptop batteries can overheat to the extent of melting and thus have a potential to cause injury to the users." Four reports of injuries from melting lithium-ion batteries have already been reported.
Learning More About Lithium-Ion Batteries
What is so dangerous about lithium-ion batteries? The following facts reported by an article in Chemical & Engineering News help to explain why these products can pose serious risks to consumers:
While the likelihood of a lithium-ion battery failure is minimal (generally speaking), the primary issue is the scale of the injuries that can result when they do fail.
Failures of lithium-ion batteries often result in "fires and serious safety incidents."
The use of lithium-ion batteries has been growing very quickly over the last few years, and about 4 billion of these products were produced in 2012 alone.
Lithium-ion batteries have "flammable electrolyte solutions," which makes them different from other types of batteries.
Misuse of a lithium-ion battery or short-circuiting can "generate a lot of heat inside the cell, ignite the liquid, or rapidly raise its vapor pressure until the cell bursts."
Overcharging a lithium-ion battery or using the wrong charger with the wrong voltage—typically a relatively harmless mistake when it comes to other types of battery use—can lead to battery failure (and potential injuries).
Lithium-ion batteries are found in many now-common consumer products, including cell phones, tablets, laptop computers, and other types of portable electronic devices.
Legal Remedies:
If you sustained an injury while using a defective lithium-ion battery, you may be eligible to file a claim for financial compensation. An experienced product liability lawyer will be able to help you determine your rights.