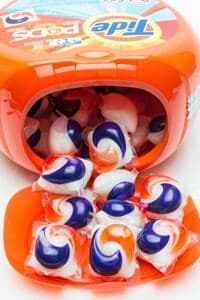 Liquid Laundry Packets Can Pose Risk of Severe Eye Injury to Small Kids, Researchers Say 
Many of us purchase household products that could, if used in an inappropriate way by kids, cause serious child injuries. However, some consumer products are more dangerous than others. According to a recent report from Today.com, a new study published in JAMA Ophthalmology determined that rates of eyes injuries in children caused by liquid laundry packets have risen dramatically in recent years. Specifically, the researchers reported that "the proportion of chemical burns to the eye caused by the packets surged 32-fold between 2012 and 2015 among preschool-aged kids."
In response, an industry group that supports product manufacturers contended that "the study analyzed data before new voluntary safety standards designed to prevent such injuries took effect." Have the researchers simply highlighted a growing problem, or have they instead reflected on a previous issue that is now under control?
According to R. Sterling Haring, one of the co-authors of the study who is a physician at the Johns Hopkins Center for Injury Research and Policy, the laundry pods at issue continue to pose a serious injury risk. As Haring clarified, "most parents probably aren't aware the packets could pose a risk to their child's vision." The chemicals that are contained in laundry pods are particularly harmful to a child's eyes, and they can "cause long-term, potentially permanent vision damage."
How are laundry packets, or pods, posing a serious risk of eye injury? These packets, or pods, are often colorful, and they have been mistaken for toys and candy by young children. In fact, the American Association of Poison Control Centers reported 11,528 exposures in 2015. How are the chemicals harming children's eyes? Most often, kids play with the pods and they sometimes squeeze or pop them. The concentrated detergent inside can squirt into the child's eyes, or the child can get the chemicals on his or her hands and then rub the eyes. An overwhelming majority of these eye injuries—85%—occurred in the home.
Learning More About Child Injuries 
It is important for parents to be aware of the dangers posed by laundry packets and to keep them out of the reach of young children. Parents should also familiarize themselves with other common childhood injuries in order to prevent them.
A safety tip sheet from the Lucille Packard Children's Hospital addresses eye injury prevention in kids:
Always wash your hands after handling household chemicals;
Never mix or use cleaning agents around your child;
Keep spray bottle nozzles closed when you are not using them;
Follow the directions precisely when you are opening bottle-tops;
Properly secure hazardous household products, such as paint, pesticide, or fertilizer; and
Keep hazardous household chemicals and cleaning supplies out of your child's reach.
In the event that your child sustained an eye injury as a result of a dangerous product, contact a child injury lawyer to determine your rights.