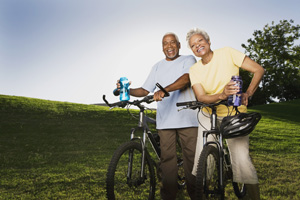 When New Yorker think of recalls for defective products, they most often associate them with defects in automobile parts that can lead to serious injury or death.  New York products liability lawyers, on the other hand, know that defects in a host of other consumer products have the potential to cause the same catastrophic injuries.  One such defect has recently been in the news, and it may pose a risk to thousands of New Yorkers who use bicycles to get around the city's commuter gridlock.
Bicycle Recall
According to a recent report by the United States Consumer Product Safety Commission, one of the nation's premier bicycle retailers has come forth to initiate a voluntary recall of several of its main product lines.  According to the recall notice, Meijer, Inc. has discovered a defect in several of its lines of bicycles that could spontaneously cause the bike pedals to loosen or detach.  The defect, Meijer says, could cause the users of these bikes to lose control, perhaps resulting in catastrophic personal injuries.
The recall affects a variety of bicycle brands assembled between March 2012 and August 2012.  The product lines included in the recall are youth and adult Huffy, Iron Horse, Mongoose, Northwoods, Pacific, Razor, and Schwinn bikes with wheel diameters of twenty inches or more.  The bicycles in question can be identified by a distinctive "Serv-U-Success" assembly sticker attached to the bikes.
Unique Case: Retailer Institutes Recall
This particular recall is atypical in one regard:  that it is the retailer, and not the manufacturer, who is issuing the recall.  The reason the retailer is issuing a recall in this case is because the bicycle brands listed above sell their products wholesale to a number of different national retailers.  When purchased this way, the bicycles arrive at the retailer in a box and unassembled.  The retailers themselves are tasked with the assembly of the bikes as a convenience to their customers, who would much rather buy a bicycle that is ready for immediate use.  In this case, Meijer employees appear to have assembled a number of these bicycles incorrectly, resulting in 29 distinct reports of pedals spontaneously detaching and 16 reports of injuries.
The retail prices of the recalled bicycles ranged from $60 to $300.  Anyone in possession of one of these bikes is asked to discontinue use immediately and return the bike to the Meijer store at which it was purchased.  There, the consumer will receive either a full refund or a bike of equal or lesser value.  The consumer will also receive a $10 Meijer store coupon for their trouble.
The Meijer recall is a timely reminder that every day thousands of New Yorkers rely on the skill and craftsmanship of many major companies to ensure that their consumer products are as safe as humanly possible.  In this case, Meijer did the right thing by issuing a voluntary recall.  Other companies are not as proactive.  If you think you have been injured as the result of a product defect, consider consulting our New York City personal injury lawyers at The Rothenberg Law Firm LLP for a consultation.