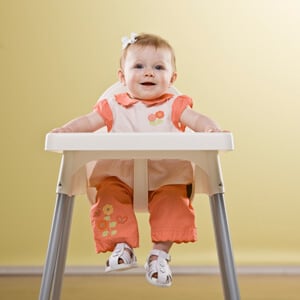 Recent Recalls Aimed at Infant Products
It is always distressing to learn that a product you have purchased has been recalled. For new parents, information about a defective infant product can be particularly alarming. According to a recent article in the Washington Post, the U.S. Consumer Product Safety Commission has announced the recall of a dangerous high chair and several hazardous crib models. If you are currently using one of these products, it is important to stop all use and learn about how you can replace these potentially hazardous items.
The recalled high chair is the "Dream on Me Dinah" model that is made with a steel base, plastic grips and tray, and fabric seats. While the chair has an adjustable safety strap, it nonetheless has a dangerous defect that poses a strangulation as well as a fall hazard to children. Specifically, the danger posed by the high chair is that the leg or side opening of the chair can allow a child's body to pass through and become entrapped at the neck, or may cause a fall from the chair.
How can you identify if the hazardous Dream on Me Dinah chair is the one you are currently using? Look for a label on the front of the tray that says "Dream on Me Dinah." Another means of identification is the storage bin that is attached to the trays- the recalled high chairs have a black and white or red and white fabric storage bin. According to the above article, about 2,800 of these chairs were sold between November 2012 and November 2013 by Walmart.com and Amazon.com.
In addition to the Dream on Me Dinah high chair, four Oeuf Sparrow crib models have been recalled due to an entrapment hazard. The slats/spindles and top rail can detach from these cribs, causing children to become trapped inside. About 14,000 of the potentially defective models were sold between July 2007 and January 2014. How can you be sure your crib is safe? The recalled model numbers are 1SPCR, 2SPCR, 4SPCR, and 5SPCR. They were sold in the following colors: birch, grey, walnut, and white.
Consumer Safety and Product Liability: Who is Responsible?
Are consumers eligible for compensation if the product they used caused an injury? Products liability law allows someone who has suffered a personal injury from a defective product to file a claim for compensation. There are many different kinds of product liability lawsuits, and a wide variety of products can be involved in these claims. In general, however, you are likely to have a claim based on one of the following defects:
Design defect: this is a defect that occurs before the product has even been manufactured. It means there is a problem with the very design of the product.
Manufacturing defect: this is a defect that occurs while the product is being made or manufactured. It means that there may not necessarily be a problem with how the product was designed, but there is a problem with how it was constructed.
Marketing defect: this is a defect that is somewhat different than the other types. While there may be no issues with its design or manufacture—there may be something wrong with the way it was marketed to consumers. Marketing defects usually involve improper instructions and failures to warn consumers of latent dangers in the product.
How often do product liability cases arise? According to the U.S. Consumer Products Safety Commission, the following statistics concern product defects and product liability claims throughout the country:
Cribs and infant products are recalled quite often. In fact, approximately 26 babies sustain fatal injuries each year because of crib defects.
Other child products are also frequently involved in recalls. In 2006, more than 220,000 kids suffered injuries caused by defective toys or electronics.
Nearly 10 percent of all personal injury cases result from a product liability issue.
Has your child been injured by a defective product such as a crib or a high chair? It is very important to discuss your case with an experienced product liability lawyer. You may be eligible to file a claim for compensation.