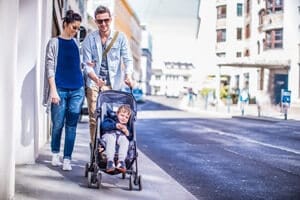 CPSC Recalls Safety 1st Brand Strollers Because of Child Injury Risk
Is the stroller that you currently use safe? According to a recent article from ABC News, around 20,000 strollers have been recalled due to a "defect that caused small children to fall out of their seat." What is wrong with the strollers such that this kind of accident could happen? The U.S. Consumer Product Safety Commission (CPSC) recalled these strollers after learning that there is a safety defect in the tray's folding mechanism that allows it "to disengage while it is supporting the infant car seat that can be attached to the stroller." When the tray's folding mechanism disengages, the child seat can fall out of the stroller, and an infant inside can suffer fall-related injuries.
In the U.S. alone, 30 incidents of the tray disengaging have already been reported. Another eight incidents of the disengaging tray were reported in Canada. Fortunately, no children have suffered serious injuries as a result of the defect. However, it is important for parents to be aware of the risks associated with these strollers in order to prevent a serious accident from occurring.
How can parents identify the strollers that have been subject to the recall? The strollers are made by Safety 1st, and they are part of a line of strollers within the brand's "Step and Go Travel Systems." If you think you might own one of these strollers, be sure to look closely at the unit model number. Strollers with the following model numbers: TR314, 01451CCYA, 01451CDGI and 01451CDGJ have been recalled.
Approximately 20,000 of the recalled strollers were sold at stores in the U.S., including Babies R Us and online retailers, between May of 2015 and June of 2016. They retailed for anywhere between $250 and $300. If you do own one of the defective strollers, stop using it and contact Safety 1st immediately.
Preventing Child Injuries from Defective Products 
Parents often want to know what they can do to prevent their kids from getting injured as a result of product defects.  According to an article in Parents Magazine, the following tips can help you in the event of child product recalls:
1) Recognize that products on store shelves or in online marketplaces are not necessarily all safe for use (which is particularly true if you buy children's products from a second-hand store);
2) Only order products for your children from reputable online sellers;
3) Understand the difference between voluntary and mandatory recalls;
4) Pay particular attention when a product is recalled due to reports of injury; and
5) Heed the recall, including recommendations to cease use of the product.
It is also essential to regularly check recalls.gov  to learn about safety defects in children's' products as well as read about safety complaints for products on saferproducts.gov.