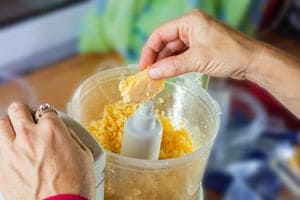 Safety Defect in Cuisinart Food Processors Causes at Least 30 Reports of Lacerations
Were you thinking about investing in a Cuisinart food processor, or do you already own one? If you purchased or own a Cuisinart food processor—even if you bought it years ago—it is important to know that millions of units have been recalled due to a serious safety defect. According to a recent report from NPR, Conair, the parent company of Cuisinart, has issued a safety recall for approximately eight million food processors. What is the product defect associated with these items? Sixty nine different consumers have "reported finding broken pieces of blade in their food," and in 30 of those cases the consumers sustained "mouth lacerations or tooth injuries."
According to the Consumer Product Safety Commission (CPSC), the food processors have a riveted blade that "can crack over time and small, metal pieces of the blade can break off into the processed food." The food processor blades are made such that four rivets connect the blade to its beige center cap. What is particularly concerning about this recall is that it impacts so many different units. Indeed, the article notes that affected units were sold between July 1996 and December 2015. As such, more than two decades' worth of products could cause serious harm to consumers who have been using them for years.
As mentioned above, approximately eight million food processors have been affected, and they were sold from a wide variety of vendors, both online and in-store. You should keep in mind that one of these units could also show up for sale in a secondhand or consignment shop, or through online sales forums such as eBay.
What Should You Do if You Have Been Affected by a Product Recall? 
In the event that you own a Cuisinart food processor or are considering buying one secondhand, you should check the model number located on the bottom of the unit. If your unit has one of the following numbers, it has been implicated in the safety recall:
CFP-9;
CFP-11;
DFP-7;
DFP-11;
DFP-14;
DLC-5;
DLC-7;
DLC-8;
DLC-10;
DLC-XP;
DLC-2007;
DLC-2009;
DLC-2011;
DLC-2014;
DLC-3011;
DLC-3014;
EV-7;
EV-10;
EV-11;
EV-14;
KFP-7; and
MP-14.
Anyone who owns a Cuisinart food processor with one of the above model numbers should stop using it and should contact the company in order to receive a free replacement blade.
More generally, what should you do if you own a recalled product? According to a safety tip sheet from Safety.com, you should take the following steps to ensure that you are not injured by a defective item:
Determine whether the product you own has been impacted by the recall;
Stop using the product immediately once you determine that it has been affected by the recall;
Follow the specific instructions issued by the recall, which typically include contacting the company to receive a refund, a replacement product, a replacement part, or a repair kit, as well as any additional steps that you should take to avoid an injury;
In some cases, such as in auto recalls, you may need to take your product to an authorized repair center; and
In the event that you sustained injuries as a result of a defective product, you should discuss your case with a product liability lawyer.