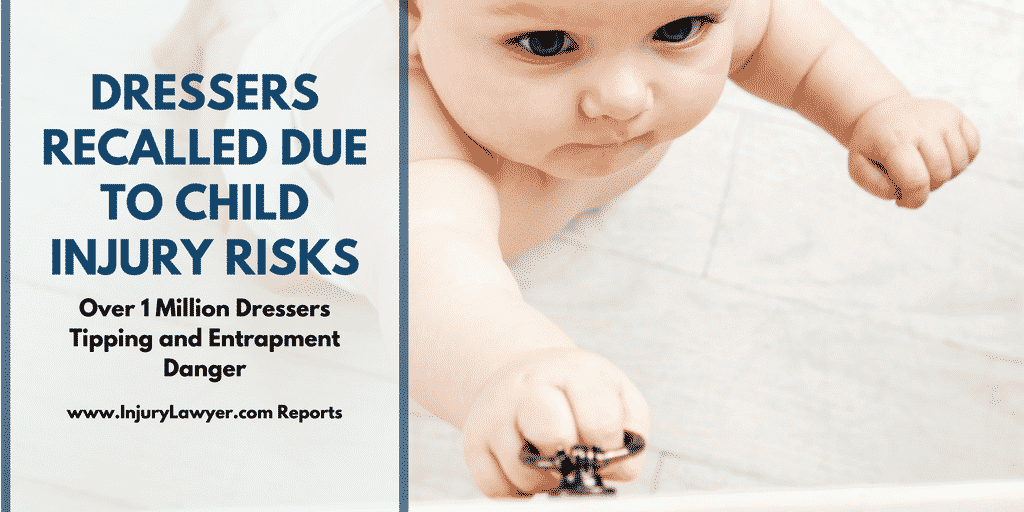 More than One Million Dressers Recalled Because of Tipping and Entrapment Dangers
 If you have a young child in your house, it is important to stay up-to-date on furniture recalls and dangerous products. Many furniture items, including dressers, are recalled when it becomes clear that the furniture can pose a risk of tipping. When furniture tips over, it can cause impact injuries to young children, as well as entrapment. According to a recent report from ABC News, more than one million dressers have been voluntarily recalled: "because of concerns about their stability and entrapment hazards." In total, 1.6 million dressers made by Mainstays are subject to the recall notice.
The Mainstays four-drawer dressers are made by Ameriwood Home, and the recall notice emphasizes that the dressers can cause serious injuries if they are not anchored to a wall. The U.S. Consumer Product Safety Commission (CPSC) explained that the furniture units pose "serious tip-over and entrapment hazards that can result in death or injuries to children." A large number of the units were sold at Walmart stores across the country, but other retailers, including those online, are also pulling the items from shelves (virtual "shelves," too) so that they cannot be purchased. In a joint statement issued by Ameriwood Home and the CPSC, consumers learned: "The chests do not comply with the performance requirements of the U.S. voluntary industry standard."
What should you do if you recently purchased a four-drawer Mainstays dresser?
You should stop using the chest immediately until you can anchor it to your wall. Anyone in possession of one of the recalled dressers can contact Ameriwood for a "free repair kit that includes a wall-anchoring device and feet for the chest." The CPSC knows of at least one report of a dresser tipping over and injuring a 4-year-old child.
Getting the Facts About Childhood Injuries
 For more information regarding furniture tip-overs, please see The Rothenberg Law Firm's infographic for important facts, figures and safety tips to protect your family. In the event that your child sustained injuries because of a defective furniture product, contact an experienced product liability lawyer to determine your rights.