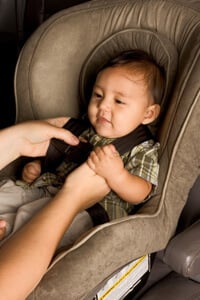 Recent months have witnessed a heightened level of attention regarding car seat safety. Evenflo is the most recent company to issue a product recall on one of their products, citing safety concerns. According to USA Today, Evenflo announced a voluntary product recall of certain car seat buckles that were difficult to unfasten in the event of a car accident. The buckles in question were hard to unlock, thereby presenting a serious risk to children who may consequently be trapped in the car. In the aftermath of a car crash, the ability to quickly remove a child from a car seat may be a matter of life and death.
Evenflo reported that food or other dirt might get lodged in the buckle, preventing normal functioning. The company will be alerting its customers who have registered their products, and will offer replacements when necessary. Evenflo notes that there have been no reported cases of injuries due to the malfunctioning buckles.
NHTSA explained that the recall affects a number of models manufactured from 2011 to 2014. Some of the car seats of the following models are being recalled: Chase, Maestro, Momentum, Secure Kid, Snugli, SureRide, Symphony, and Titan. For more details, consumers may visit the following sites: www.buckle.evenflo.com and www.safercar.gov.
Car seats are a critical component of ensuring the safety of children while traveling in a vehicle. The CDC reports that car accidents are a leading cause of death for children in the United States. Equipping a car with age appropriate car seats is one way to greatly increase a child's safety. Parents are encouraged to study all of the necessary guidelines for the proper use of car seats. Children gradually move from rear facing, to forward facing car seats, and then eventually to boosters and seat belts. Knowing the proper age and weight bracket of each stage is critical for maintaining safety standards.
Legal Recourse: What Can I Do If I Own a Recalled Model?
Has your child suffered injuries as a result of an Evenflo car seat? You may be able to file a claim for compensation, and should speak to a product liability lawyer immediately.
Consumers who own one of the recalled car seats should contact Evenflo immediately to report your issue and receive a new buckle.