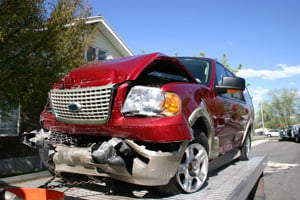 Defective safety feature prompts Ford's massive recall:
According to an article posted by USA Today, in August of this year, Ford Motor Company recalled over 12,000 vehicles because the child safety locks may not work properly on some of its models.  There is a faulty latch assembly in the safety lock mechanisms on some of the vehicles in question.  The latch in these vehicles may fail and the rear child safety lock may deactivate during normal open and close usage.
The child safety locks are switches designed to allow the back doors to be set to a lock position, barring any back seat passengers (e.g., young children) from opening the door from the inside of the vehicle.  When functioning properly, the back doors are only able to open from the outside of the vehicle, ideally by a responsible adult. Without child safety locks, children are at risk of opening the rear doors from the inside and thereby posing a serious threat to the child if the vehicle is in motion.
In its recall notice, the National Highway Traffic Safety Administration (NHTSA) warns that the hazardous issue increases the chances of personal injury to an unrestrained child who may open the back door of a moving vehicle.  Ford claims that there is no report of accidents or injuries related to this recall.
The affected vehicles include:
2013 Ford Explorer
2013 Ford Taurus
2013 Lincoln MKS
The vehicles in question were manufactured between November 29, 2012 and December 12, 2012.  Most of the recalled automobiles are in the United States.
What should I do if I own one of the "affected vehicles"?
Ford began notifying owners about the problem in August.  The notice instructs affected owners to take their vehicles to an authorized Ford dealer where the child safety locks will be tested.  If need be, the faulty safety latch assembly will be replaced at no expense to the owner.
For further vehicle-specific information you may contact:
Ford Customer Relationship Center at 1-866-436-7332 or
NHTSA Vehicle Safety Hotline at 1-888-327-4236
NHTSA assigned Ford an identification number for this incident, that recall number is 13S07.
Safety features in vehicles
Most new automobiles offer several different safety features and safety ratings – some of which are listed below.
Crash tests and rollover ratings;
Airbags;
Airbag cutoff switch;
Head restraints;
Child window locks;
Emergency trunk release; and/orAutomatic crash notification (e.g., On-Star).
In the United States, all new vehicles need to clear minimum government safety and crash test requirements.  NHTSA and the Insurance Institute for Highway Safety (IIHS) conduct further safety tests.  In addition to the aforementioned test results, NHTSA provides a searchable database of recalled vehicles as well as vehicles under safety investigation or have complaints filed on record.
Automobile makers are subject to strict liability when it comes to the manufacture of their vehicles. Strict liability is defined as the imposition of liability on a party without the finding of fault (such as negligence). The individual harmed by a defective automobile needs to prove that the harm occurred as a result of a defect in the vehicle.
Vehicle accidents and legal remedies
Safe driving coupled with a vehicle's safety features should offer drivers a sense of security.  Unfortunately, faulty design can occur in automobile safety equipment and individuals must be sure to stay informed about any safety recalls on vehicles.   In the event of an accident caused by a defect in an automobile, it is important to consult with an experienced automobile products liability attorney to discuss your potential claim.