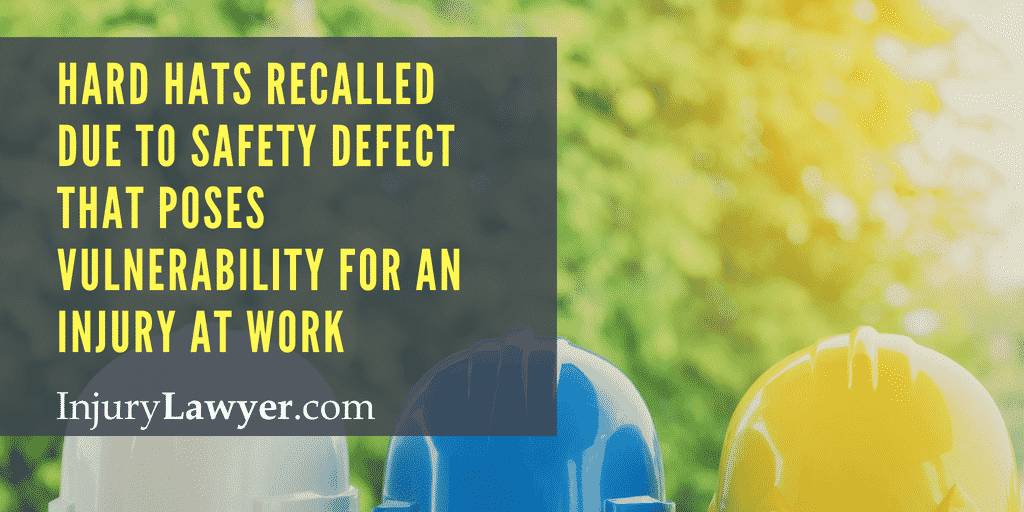 More Than 80,000 Hard Hats Recalled for Possible Insufficient Protection from Impact and Construction Injuries
When you go to work at a construction site, you should be able to expect that your hard hat will protect you from a serious head trauma and construction injuries, including a traumatic brain injury (TBI), in the event that an object falls and hits your head in a construction accident. As an article from the Occupational Health Center emphasizes, about 1.7 million people sustain brain injuries every year, and many are permanently disabled as a result. Moreover, one of the most common places to suffer a serious head wound is on a construction jobsite, and the construction industry "has the highest risk and number of traumatic brain injuries." How do we prevent head injuries at work? As that article underscores, "hard hats do provide the most protection from traumatic brain injuries." But what happens when hard hats do not perform the way they are supposed to in preventing a construction injury?
A recent report from the CT Postindicates that more than 82,000 hard hats manufactured by Honeywell are subject to a recall due to a safety defect. As the report explains, the hard hats have been recalled: "because they can fail to protect users from impact, putting the wearer at risk of a head injury." Although Honeywell has not received any reports of TBIs or another type of injury at work from construction workers or others who used the hard hats, it is important for any employer or employee in possession of one of these hard hats to stop using it immediately and to contact Honeywell for reimbursement. Consulting with an experienced brain injury attorney who can assist with your case can be incredibly helpful here.
How do you know if the hard hats in your possession have been subject to the recall? All of the recalled products fall into the following two categories:
Honeywell Type 1 Fibre-Metal E2 hard hats; and
Honeywell North Peak A79 hard hats.
These products were sold in many different colors. The Fibre-Metal E2 hard hats will have a date of manufacture of one of the following: April 2016, May 2016, December 2017, or January 2018. The North Peak A79 hard hats will show manufacture dates of anywhere from April 2016 through January 2018. While only "mold identification number 4" North Peak A79 hard hats are included in the recall, it is important to double check before you allow any workers to use the hard hats, or before you wear one yourself in order to prevent a construction injury. These products were sold by many different retailers, as well as online at websites like Amazon.com.
Learning More About Struck-by Injuries at Work
The Occupational Safety and Health Administration (OSHA) defines struck-by injuries as those that are "produced by forcible contact or impact between the injured person and an object or piece of equipment." Types of struck-by injuries, according to OSHA, include:
Being struck-by a flying object;
Being struck-by a falling object;
Being struck-by a swinging object; and
Being struck-by a rolling object.
Hard hats may prevent construction injuries and on-site incidents in all of those categories, particularly from falling objects. About 10% of all fatal injuries at work are struck-by injuries, and the following are examples of the causes of construction accidents involving a worker being struck-by a falling object:
Pole breaks and strikes construction worker on the head;
Wall panels fall off a worker's truck;
Crane boom cable breaks and falls on workers;
Section of boiler falls during cutting and strikes worker; and
Jib of the crane falls and strikes a worker.
If someone you love experienced a construction injury or other injury at work, an experienced construction accident lawyer can help.