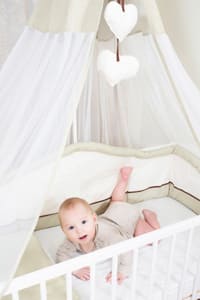 International furniture retailer IKEA announced in March that many of its bed canopies were being recalled. The company explained that many customers had complained about cases of near strangulation of their children. Apparently, children were pulling the netting of the canopy down towards the mattress, and in some cases twisting it around their necks. Thankfully, no cases of serious injury or death were reported. However, Ikea did receive enough complaints to warrant a product recall.
Since 1996, Ikea has sold approximately 2.7 million canopies. The recall includes the following brands: Barnslig Boll, Himmel, Klammig, Fabler, Legendarisk, Minnen bed canopy set, Minnen Brodyr, and Tissla. The company has assured its customers that all defective canopies will be fully refunded. Due to the serious safety risk involved, the attorneys at The Rothenberg Law Firm LLP strongly encourage all Ikea customers to check their children's beds to see if their model is included in the product recall, and if so to promptly return it to the retailer.
When a manufacturer produces and then sells goods that are later found to be defective or unsafe, the consumer may file a claim for product liability under certain circumstances. In order to pursue a claim, the injured party needs to prove that the product was unreasonably dangerous due to the defect.
A product may be deemed unreasonably dangerous for one of three reasons:
1.  Design Defect:
Some products may be have been perfectly assembled, and yet still present a danger to consumers. This occurs in situations where the design of the product is fundamentally flawed, thereby exposing the user to a certain risk. The manufacturer would be at fault for any ensuing injuries.
2.  Manufacturing Defect:
In certain situations, a product may be unsafe only due to the particular circumstances of its production. If a product is improperly assembled, and the defective assembly is what led to an injury, the manufacturer may be held responsible for this error.
3.  Failure to Warn:
Manufacturers and retailers are required to provide adequate warnings about any possible dangers, as well as clear instructions for proper usage. A product may be perfectly safe – but only if the consumer knows how to use the product properly. In some circumstances, a product may be safe for some people, but may pose a danger to others and an improper or insufficient warning could cause serious injury. It is incumbent upon the manufacturer and retailer to inform consumers how to use a product in a safe and responsible manner and warn of any potential dangers with use.
Regardless of the particular scenario, in order to successfully file a legal claim of product liability, the product in question should always be preserved, and any relevant paperwork regarding the purchase of the product should also be readily available. Relevant documents include: receipts, repair records, and any other such forms. Procuring the assistance of a defective product lawyer is critical in order to ensure that your rights are protected.