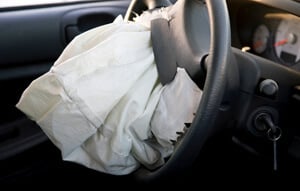 Ford Recalling Ranger Pickups Due to Injuries from Exploding Airbags
If you are a consumer who has been following auto recall news over the last year or two, you know that the Takata airbag recall has involved thousands of vehicles sold in the 2000s and has left drivers wondering whether their vehicles are safe for use. According to a recent article from the Associated Press, the list of cars associated with airbag recalls has just increased to include Ford Ranger pickups. Indeed, Ford has decided to recall approximately 391,000 Ranger pickups due to the risk of injury from an exploding airbag. As the article notes, "the driver's air-bag inflators can explode with too much force and can cause injuries."
If you own a 2004-2006 Ford Ranger, it is important to heed this recall. In fact, one driver already suffered fatal injuries in December as a result of an exploding airbag inflator. Government officials have also indicated that this is not the last of the airbag recalls that we are likely to see. To be sure, "automakers will recall another 5 million vehicles equipped with faulty inflators made by Takata Corp." Moreover, the National Highway Traffic Safety Administration (NHTSA) expects that the recall will grow even larger.
Ford anticipates sending out recall notices to owners of 2004-2006 Ford Ranger pickups beginning February 22, 2016 but no later than March 7, 2016. The automaker has indicated that it does have some replacement parts available to consumers, but many Ranger owners will be left without a solution for at least a short time. Ford is hoping to make additional airbag inflators available as replacements "as soon as possible" as it works out the details with other airbag manufacturers. An article in The Car Connection highlighted the fact that the recent airbag-related death in the Ford Ranger pickup is the ninth fatality to occur in the U.S. as a result of a defective Takata airbags.
What Should I Do if I Receive a Recall Notice? 
Receiving a letter in the mail about a dangerous product and its recent recall, can be alarming. Yet it is important to read the notice you receive carefully and to follow the instructions in order to avoid injuries. According to a report from Consumer Reports, the following is what you should do if you learn that your vehicle is implicated in an auto product recall:
Follow the instructions for a product replacement or repair exactly as indicated on your recall notice.
Avoid driving your vehicle if the recalled part makes your vehicle unsafe to drive. If your vehicle is part of an especially large recall, you may need to wait weeks or months before the replacement part becomes available.
If you are not sure of the risks involved in driving your car without having the defective part repaired or replaced, contact the manufacturer and/or dealership to learn about the risks.
Legal Recourse:
As mentioned above, given the high incidence of recalls associated with Takata products, it is essential for every automobile owner to be aware of the latest recalls.  Additionally, one should note that automobile manufacturers have a duty to consumers to make sure that all of their products are safe for use at all times. If a manufacturers produces a defective auto-product, consumers have the right to sue for any damages they suffer as a result of that defective product. Therefore, if you have been injured by a defective airbag, regardless of the automobile manufacturer, you may be able to seek financial compensation for your injuries. Contact an automobile defect lawyer to determine your rights.