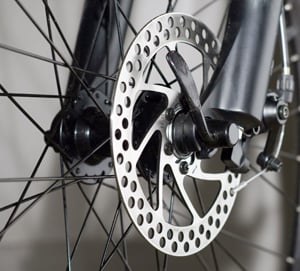 Front Brake Defect Prompts CPSC to Recall 1.3 Million Bicycles 
Is your bicycle safe for everyday use? Are you currently riding a bicycle to work that has a potentially hazardous defect? According to a recent article in The Wall Street Journal, the Consumer Product Safety Commission (CPSC) has recalled about 1.3 million bicycles due to a dangerous defect with front disc brakes. The CPSC explained that "the quick-release lever on the front wheel hub poses the risk of injuries."
A similar report from Consumer Affairs detailed how the quick-release lever on certain bikes can result in serious injuries. In some cases, the report explained, the "quick-release lever on the bicycle's front wheel hub can come into contact with the front disc brake rotor, causing the front wheel to come to a sudden stop or separate from the bicycle." If such an incident were to occur while you were riding, you could be thrown from the bike or could crash. Three such incidents have already been identified. In one of those accidents, the bicyclist "suffered a broken finger, a wrist injury, a shoulder injury, and abrasions."
A number of different bicycle models have been implicated in this product recall. Thirteen different manufacturers have produced the bicycles that could pose serious risks to riders. As such, it is important to know if your bike is included in the recent recall. The following represents a partial list of the brands and model years of some of the bicycles implicated:
Accell North America "Diamondback" and "Raleigh" models, produced from 2004-2015;
Advanced Sports International "Breezer," "Fuji," and "SE" models manufactured between 2005-2015;
Cycling Sports Group Inc. "Cannondale" and "GT" models from 1998-2015;
Felt Racing LLC "Felt" model, produced from 2006-2015;
Giant Bicycle Inc. "Giant", including model years from 2003-2004;
LTP Sports Group Inc. "Norco" from 2000-2015;
REI "Novara" models from 2002-2015; and
Specialized Bicycle Components Inc. "Specialized," including model years 2002-2015.
Knowing How to Handle a Product Recall
A majority of the recalled bicycles include year 2015 models. Therefore, you may have recently purchased a bike that is not safe for use. Given the wide range of bicycle brands and model years, it is important to ascertain whether your bicycle is implicated in the recall. If it is, you should know what steps to take to ensure your safety.
According to a report from USA Today, the following is what you should do if your bicycle has been recalled:
First and foremost, follow the guidelines set forth in the recall notice;
Stop using the bicycle immediately; and
Contact an authorized retailer for your bicycle model and brand to find out about a repair or replacement.
Even if you have not been injured on your bicycle yet, does not mean that a serious accident cannot occur with future use of a recalled bike. Product recalls exist to ensure consumer safety, and it is important to abide by them. If you or someone you love recently suffered an injury caused by a defective product, you may be eligible to file a claim for financial compensation. Contact an experienced product liability lawyer to determine your rights.