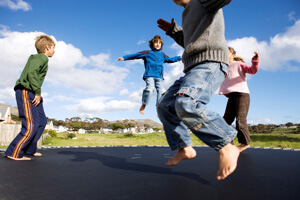 Defective products can cause serious injury to consumers, especially since recalls are usually issued after a number of people have been injured. While it is impossible to stay up to date on every possible dangerous product, it is always helpful to keep a basic eye out for goods that you may have bought which pose an unreasonable risk of harm.
For example, this month the Washington Post provided a helpful story on several recalls this month. These recalls include the following products:
Trampolines

:  Manufactured by Sportspower Ltd. of Hong Kong, the Sportspower Parkside trampolines were sold at Sports Authority stores nationwide from April 2007 to May 2012. The model number of the recalled product is TR-14FT-COM, which can be found on the packaging and instruction manual. The trampoline is 14 feet in diameter with an enclosure net that is marked with the label "Parkside." The legs of the trampoline have been reported to move out of their original position and puncture the jumping area, possibly causing injury to anyone who uses it. No injuries have been reported to date. If you believe you have this recalled product, please contact Sportspower at (888) 965-0565.

Waterslides

:  Also manufactured by Sportspower Ltd. of Hong Kong, the Liquid Motion waterslide was sold at Menards Inc. from April to July 2010. The product has the logo printed on its side and is 18' long x 9' high x 5' wide. The warnings on this product are insufficient, as they fail to notify the consumer of the dangers posed by sliding head first and fail to set an appropriate weight limit for use. Lack of warning can cause injury to children and adults. There has been one reported incident of a man with a neck injury who slid down the slide head first. If you believe you have this product, then contact Sportspower at (888) 965-0565.

Window Fittings

:  Distributed by G-U Hardware, Inc. in Newport News, Virginia, these window fittings are called "Tilt-turn Stay Arms and Side-hung Sash Hinges" and were sold nationwide from October 2002 to December 2011. These products are being recalled because they have the potential to break off and cause the window to fall, a potential hazard to consumers. There have been two incidents reported to date involving these window fittings. Since these products are usually used in commercial buildings, be aware of any installation of window treatments you may have had done as well as window treatments done during the above time frame in a building you work or live in. The end of the fitting will have a component number as well as a stamp of "G-U" at the end. For additional information contact G-U directly at (855) 355-8810.
If you or a loved one has been injured due to a defective product, you should consider discussing your particular situation with a personal injury attorney who may be able to help you receive financial compensation for your injuries.