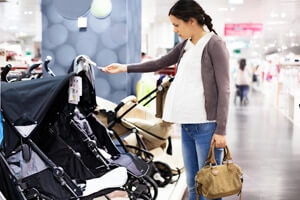 Children's Strollers Recalled Due to Injury Risk
Many child injuries are preventable, especially when they result from hazards posed by defective products. According to a recent report from CBS News 10, a children's product manufacturer has issued a recall of a particular stroller due to the risk of injury. In most instances, children were injured while using this product, however, in some cases, the parent or caregiver also sustained injuries as a result of the stroller's defects.
What do you need to know about the recent recall?
The specific product that is subject to the recall is the Aria Child "Qbit Lightweight Stroller" designed for children up to 50 pounds. The hazard listed in the company's recall notice concerns the folding side hinge of the stroller. The hinge can pinch the hand of the caregiver during folding or unfolding, and the defective hinge can also lead the stroller to "fold unexpectedly during use." If the latter occurs, the stroller can pose a fall hazard to the child. Thus far, Aria Child has received reports of five consumers sustaining lacerations from the hinge, with four of them requiring stitches. The company has also received 71 reports of the stroller folding unexpectedly, leading to 12 injuries including bruises and some bone fractures.
How can you identify the stroller to determine whether you own one of the recalled products?
The defective strollers were manufactured between March 25, 2015 and March 9, 2016. The products were sold at a variety of online shops and retail stores between May 2015 and November 2016, including Babies R US, Albeebaby.com, Amazon.com, Dmartstores.com, and Medbroad.com.
The specific model numbers include:
10AW1G-AQU2U (aqua color);
10AW1G-RAS2U (raspberry color);
10AW1G-WHT2U (white color);
10AW1G-CHA4U (charcoal color); and
10AW1G-CIR5U (citrus lemon color).
The hinge defect cannot be repaired. Instead, the company will replace the stroller if you own one of the defective models. You should stop using the stroller immediately and contact Aria Child to receive a replacement. In the event that you or your child were injured as a result of this product, contact an experienced personal injury lawyer to determine your rights.