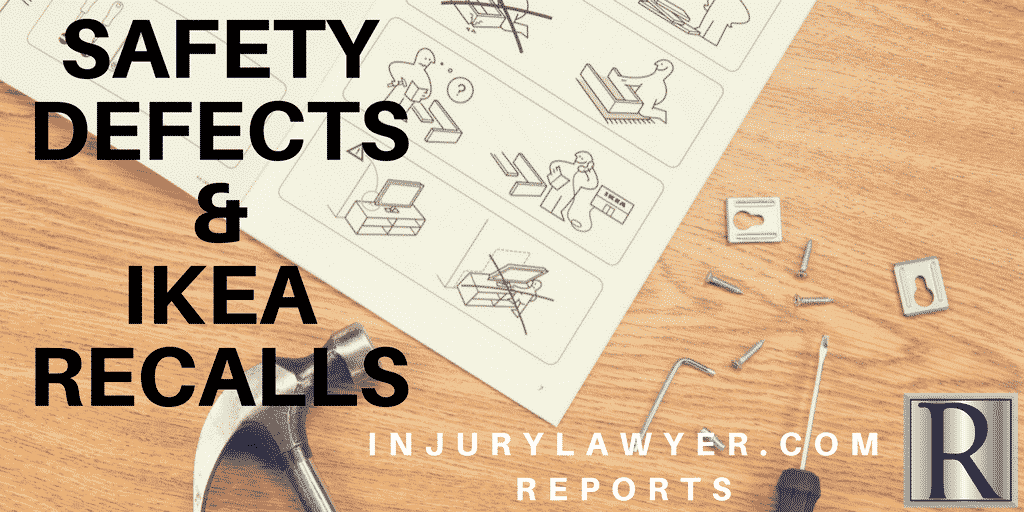 List of Recalled IKEA Items Grows, Prompting Safety Defect Concerns
Over the last year, IKEA has issued several safety recalls due to dangerous product defects. According to a recent article in Cosmopolitan, a series of distinct IKEA products have been subject to recalls over the last 12 months, and it is important to ensure that you do not own or currently use any of these potentially hazardous products. Whether you purchased the item in an IKEA store or bought it secondhand, it is important to know about safety issues and to heed recall notices for furniture and other products.
What products have been subject to recalls? The first, and perhaps most important for the summer months is the MYSINGSÖ beach chair. These chairs have two separate risks: the risk of a fall-related injury, as well as the risk of finger entrapment and fingertip amputation. If you purchased one of these chairs at an IKEA prior to February 2017 or purchased a chair from a secondhand seller, be sure to determine whether the product has been recalled. In addition to the beach chairs, IKEA also recently recalled its GOTHEM floor and table lamps. The lamps come in three different variations, and consumers "found examples of damaged wiring" in each model. While IKEA did not receive any reports of serious injury, the faulty wiring caused electric shocks and could cause more serious injuries.
In addition to these furniture items, IKEA has also issued recalls for products designed for kids. Most notably, the PATRULL child safety gate, designed to prevent children from getting into dangerous areas and reaching staircases, does not work properly. The gates have been known to open unexpectedly, resulting in children falling down stairs. Consumers who purchased any PATRULL product should contact the store to ensure that they are not in possession of a defective item. These safety gates are not the only products that might result in child injury. Indeed, IKEA also issued a recall this year for children's bat capes, which poses a risk of strangulation.
Get the Facts: What to do if You Think You Have a Defective Product
 According to a fact sheet from the U.S. Consumer Product Safety Commission (CPSC), nursery products alone were associated with more than 65,000 child injuries in 2015. Given the seriousness of safety defects and dangerous household products, what should you do if you own a consumer item that has been subject to a recall? An article in Parents Magazine recommends that you take the following steps:
Always be aware of the possibility of a product recall, and stay up-to-date on product recalls by reviewing the CPSC's web site;
When you realize you own a defective product, stop using it immediately;
If you do own a recalled product, heed the instructions in the recall (which can vary depending upon the type of product and the type of defect);
For some product defects, it is possible to repair the issue, and you will need to contact the manufacturer to learn more about repairs;
For other product defects, the defect may be irreparable and you will need to contact the manufacturer to obtain a refund or a replacement; and
Whenever you are in doubt, simply stop using a product and dispose of it.
If you or your child suffered injuries because of a product defect, you should discuss your options with a product liability lawyer.