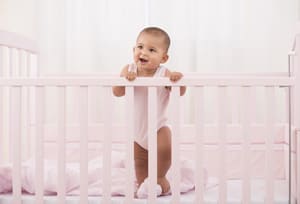 Is your baby's crib safe for use? Every year, products intended for children are recalled because of potential hazards. In many cases, numerous child injuries occur before a dangerous product is removed from store shelves. According to a recent report from NBC News, the U.S. Consumer Product Safety Commission issued a recall for certain DaVinci brand cribs because of the risk of entrapment.
Which crib models are subject to the recall? A number of DaVinci brand full-size cribs have been affected, including:
Reagan crib (model #M2801)
Emily crib (model #M4791)
Jamie crib (model #M7301)
Jenny Lind crib (model #M7391)
The cribs were manufactured between May 2012 and December 2012. Based on information from the manufacturer, "a metal bracket that connects the mattress support to the crib can break, creating an uneven surface or gap." If this happens, "a baby can become entrapped in the crib, fall, or suffer lacerations from the broken metal bracket." DaVinci has received ten separate reports of the brackets detaching, but it has not received any reports of injuries associated with the product.
If you do own one of these cribs, it is extremely important to stop using the crib immediately and to contact the company for information about replacement parts.
Crib Injury Statistics in America
According to a WebMD information sheet, nearly 10,000 children sustain injuries every year that require treatment in an emergency department "after falling or becoming wedged or caught in cribs, playpens, and bassinets." Gary A. Smith, the director of the Center for Injury Research and Policy at Nationwide Children's Hospital emphasized that cribs are "certainly a very common source of injury," and that the statistics currently available are an "underestimate." If we were to take into account the number of crib-related injuries that required treatment at urgent care facilities or family doctors, we would be looking at thousands more injuries per year.
How do children sustain injuries in cribs? It is relatively easy to get hurt in a crib, and those injuries typically result from one of the following:
Falling or jumping out of the crib (80 percent);
Falling inside the crib (15 percent); and
Hitting or being cut on the inside of the crib (6 percent).
While most crib-related injuries are not fatal, they can be serious and often require medical attention. Most often, children sustain the following types of injuries in crib incidents:
Soft-tissue injuries, such as bruises or scrapes (about 33 percent);
Concussion (20 percent);
Lacerations and/or cuts (14 percent); and
Fractures (12 percent).
How many children suffer fatal injuries in cribs? Approximately, one percent. However, fatal injuries tend to result from being caught or wedged in the crib—the very problem for which the DaVinci cribs have been recalled. In two-thirds of fatal accidents associated with being caught or wedged in the crib, the victims were under six months old.
Crib design and manufacturing defects are to blame for many infant crib injuries, particularly in drop-side crib models. Therefore, parents must pay close attention to any recalls regarding cribs in order to prevent an injury from occurring. If your child recently suffered an injury as a result of a crib, contact a product defect attorney to determine your rights.