It is every parent's worst nightmare.  You drop your youngster off at a day care facility and head off to work.  Later in the day you receive a call from the day care center.  It's an emergency.  There was an accident.  Your child has been hurt.
This is a reality for far too many families.  Injuries at daycare facilities range from minor accidents that eventually heal to serious injuries and even death.  Unfortunately, in many cases the underlying problem is connected to daycare negligence with caregivers failing to act appropriately.  When that occurs, the civil justice system exists to help provide accountability and compensation.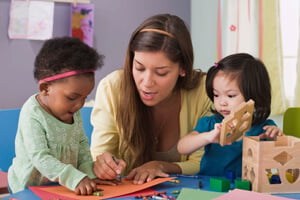 Even Small Errors Can Be Serious
It is important for families and caregivers to remember that even minor lapses in care can be fatal.  For example, worldwide headlines were made last year when a three-year old died after swallowing a pushpin at a preschool.  As UTSan Diego reported in October of 2011, the child was allowed to use the bathroom without supervision and obtained a pushpin.  Pushpins have long-been known to pose serious dangers to young children and toddlers.  The boy swallowed the sharp pointed object and choked—paramedics were unable to revive him
The facility was eventually cited for failing to properly monitor the young child and for creating an environment where the pushpin was accessible to the child.  Yet, even with these serious violations, the state was only able to fine the facility $150.  However, the civil law provides the surviving family members an avenue to provide real accountability for the loss of their son.
Sadly, this case is not unique.  In fact, in the very same month a second child died from choking on a pushpin in Kentucky.  In that case, the 18-month old child swallowed the pin at the daycare facility and died after the object blocked his airwaves.
Protecting the Vulnerable
No one is more vulnerable than our children.  For this reason it is imperative that day care providers act carefully at all times to keep children safe and secure.  Lack of supervision is the single greatest cause of daycare injuries.  Often the supervision itself is caused by inadequate staffing.  If there are not enough adults watching a group of children, than it is far more likely that one of the children will get into trouble and unintentionally injure themselves.
Signs of Negligence
Many times daycare negligence goes unnoticed until it's too late.  State and federal laws exists which prescribe standards that must be followed by all of these facilities and institutions.  This includes removing known dangers, providing proper oversight, and maintaining appropriate caregiving items in case of emergency.  Failure to abide by any of these standards often results in legal liability in the event of an accident.    When choosing a daycare for your child, a parent or guardian should make sure that the following criteria is met at all times.
The daycare facility should provide the following:
Proper caregiver to child ratio;
Easy access to first aid tools;
Proper safety standards;
Adequate portioning of food according to prescribed schedule;
Adequate access to water;
Proper bathroom facilities;
Proper safety measures that prevent "Wandering," where the child departs the daycare center without authorization;
A policy that forbids all forms of physical, mental, emotional and/or sexual abuse.
Daycare Negligence Lawsuit
If you or a loved one has been hurt at a daycare facility, it is crucial to get in touch with a personal injury attorney to learn how the law applies in your case. Both the victims of this negligence and their families can be entitled to monetary compensation for damages suffered because of daycare negligence. Please get in contact with an experienced daycare negligence attorney at The Rothenberg Law Firm today to see if a day care negligence lawsuit is appropriate.    You can reach The Rothenberg Law Firm LLP at 1-800-624-8888 or submit an InjuryLawyer.com free online case evaluation. The initial consultation is FREE of charge. We work on a contingency fee basis. Meaning, if we agree to handle your case, there are no legal fees unless we are successful in getting you money.
Some lawsuits need be filed before an impending expiration date, known as the Statute of Limitations. Therefore, call or contact us right away to ensure that you do not waive your rights to money damages or other benefits.