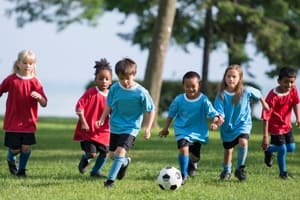 As More Kids Play Soccer, Rates of Sports-Related Concussions and Other Injuries Rise 
For many parents, the risk of sports-related concussions and other serious injuries has resulted in decisions to avoid contact sports like football and hockey. In response to news about the risks of head trauma in those sports, many parents have turned to soccer as a seemingly safer alternative. However, according to a recent article in Reuters, more children are playing soccer than ever before, and as a result, the rate of serious soccer injuries has risen dramatically.
The article reports on a recent study published in Pediatrics, which indicates that "the injury rate for youth soccer players aged 7 to 17 more than doubled over the 25-year period ending in 2014." In total, the rate of sports-related concussions connected to youth soccer only accounted for about 7% of all soccer-related injuries. Yet the total number of concussions is somewhat startling. As the article notes, "the annual rate of concussions surged by almost 1,600 percent during the same period."
The problem is not simply that more kids are playing youth soccer. According to Dr. Huiyun Xiang, the head of pediatric trauma research at Ohio State University College of Medicine, the percentage rate of injuries is also on the rise. In other words, while the total number of soccer-related injuries certainly has increased, there is also a percentage rate rise, suggesting that more kids are getting hurt than before. As Xiang explained, "the increase in injuries doesn't just come from more children playing soccer, but that athletes may be getting injured more frequently."
Getting the Facts About Soccer Injuries
In the 25-year period ending in 2014 that researchers assessed in the study, about three million kids were treated for soccer injuries in emergency departments across the U.S. On average, about 120,000 children received hospital treatment each year for their injuries. Most of the youth athletes were between the ages of 12 and 17, and the average age of injured soccer players was 13 years old. A majority of the injuries occurred during collisions with another player or with the soccer ball on the field.
What types of injuries have been most common? The article cites the following as frequent soccer-related injuries:
Fractures;
Sprains;
Soft-tissue injuries; and
Concussions.
What can we do to help prevent soccer injuries? According to a fact sheet from the American Academy of Orthopedic Surgeons, the following safety tips can help players to avoid serious personal injuries:
Never "head" the ball;
Always wear shin guards;
Wear shoes that have molded cleats or ribbed soles;
Check to ensure that soccer goals are properly padded and secured;
Stay hydrated when you are playing;
Ensure that holes and bare spots on the field are repaired, and that any debris is removed; and
Do not play in dangerous weather conditions.
As the fall soccer season comes to an end, it is important to keep these safety tips in mind. And if your child experienced a sports related injury, contact a personal injury lawyer to determine if he or she is entitled to seek financial compensation for his or her injuries.