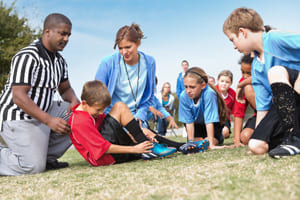 Millions of Kids Sustain Sports-Related Injuries Each Year
Do you know what to do if your child suffers a sports injury? It is important for parents to know how to handle sports-related injuries when they occur. According to a recent article from U.S. News & World Report, while most parents focus on traumatic injuries such as head trauma, repetitive motion injuries can also be debilitating for young athletes. Repetitive motion injuries are actually among the most common sports injuries reported among children, along with sprains, strains, heat-related illnesses, and growth plate injuries.
Repetitive motion injuries from sports can also cause long-lasting harm to your child. Examples of this type of injury include hairline fractures and tendinitis. It is often difficult to diagnose these injuries because they often do not appear on an X-ray. However, they will affect your child's ability to play sports.
Sports-Related Injury Statistics Among Children
According to the above article, the Centers for Disease Control and Prevention (CDC) estimates that more than 2.6 million kids under the age of 20 seek treatment in emergency departments every year for sports-related injuries. For most parents, that is a shockingly high number of injuries. And many of those injuries are preventable.
What other statistics are important for parents to know? The Lucille Packard Children's Hospital at Stanford University emphasizes how important it is for parents to remember that "all types of sports have a potential for injury, whether from the trauma of contract with other players or from overuse or misuse of a body part." A fact sheet from the Children's Hospital provides statistics that underscore the risks kids face when they play sports or engage in certain recreational activities:
More than 3.5 million kids under the age of 14 actually sustain sports-related injuries each year. While not all of those children require hospitalization or treatment at an emergency department, that number is staggeringly high.
The most common sports injuries among children are sprains and strains.
Sports-related fatalities are rare, but they do happen. Brain injuries are the most common deadly sports injury among children.
Sports accidents and injuries result in more than 20 percent of all traumatic brain injuries (TBIs) among kids in the U.S.
The most common sports-related causes of TBIs include bicycling, skateboarding, and skating.
Playing sports is an integral part of childhood. Parents should encourage sports, but also must make sure to keep their children safe. In certain situations, you may be eligible to file a claim for financial compensation if your child suffered a sports injury. Contact an experienced child injury lawyer to determine your rights.