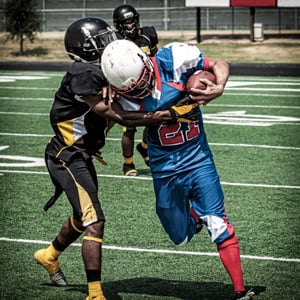 If your child is a high school athlete, how much attention do you need to pay to the risks of serious and fatal sports-related injuries? A recent article in Reuters reported on the death of a New Jersey high school football player who died from massive internal bleeding caused by a lacerated spleen. This student's death is only one of many that have occurred in recent years.
From traumatic brain injuries (TBIs) and spinal cord injuries (SCIs) to organ lacerations and heatstroke, we know that youth football players are at an especially high risk of injury when they are on the field. What do we need to know to keep our kids safe?
Deaths in High School Football Occurring Across the Country
Deaths among high school football players are not limited to one region of the country. A recent article in CNN News described September 2015 as a "deadly month in high school football," citing fatal injuries sustained on the field by players in New Jersey, Georgia, Washington, Oklahoma, and Louisiana. These youth athletes have died from a variety of injuries, including:
Heart-related conditions;
Traumatic brain injuries (TBIs) and blunt force trauma to the head;
Lacerated spleen causing massive internal bleeding; and
Broken neck or spinal cord injury (SCI).
As CNN News articulated, we have seen more deaths among high school athletes in September of this year than have occurred in the past over an annual basis. Although the number of high school sport-related deaths can fluctuate from year to year, the National Center for Catastrophic Sports Injury Research (NCCSIR) at the University of North Carolina indicated that around three high school football deaths occur annually. Last year, five high school football players suffered fatal injuries that included TBIs and SCIs, while another six died from "indirect causes," such as heart-related conditions, heat stroke, and hypernatremia.
In fact, the average of three high school football deaths per year—a number that held relatively steady over the last decade—has increased dramatically in recent years. The NCCSIR reported the following rise in deaths since 2013:
8 high school football deaths directly linked to the sport in 2013;
11 deaths among high school football players in 2014; and
In September of 2015 alone, we have seen 5 high school football deaths.
Causes of High School Catastrophic and Deadly Sports Injuries
Why are so many high school football players suffering fatal injuries on the field? That is a question posed by an article in USA Today after reports were released about the number of deaths last year. More high school athletes are suffering deadly injuries than college and professional players. Some potential reasons, according to Kevin Guskiewicz, the founding director of the Sports-Related Traumatic Brain Injury Research Center at the University of North Carolina, might include:
Older equipment being used in high school that has not been certified for safety and effectiveness, particularly helmets;
Lack of athletic trainers at practices and games for high school athletes; and
Developing brains of teenagers.
If your child does suffer a fatal injury while playing high school football, who is responsible? Most states now have laws in place requiring school districts to have specific protocols for sports-related head injuries, including treatment and prevention. In New Jersey, for instance—where one of the recent deaths occurred—legislation was enacted in December of 2010 to require that every school district, charter school, and non-public school adopt a policy concerning the prevention and treatment of TBIs.
Some of the key points included in head injury protocols are:
Baseline testing of each student prior to the season's start;
Observation of potential signs of head injury by coaches, licensed athletic trainers, school physicians, or school nurses;
Reporting of potential head trauma; and
Guidelines for returning to play following a TBI or other brain injury.
If your child has suffered a serious injury during football, contact an experienced brain injury attorney to learn more about your rights.