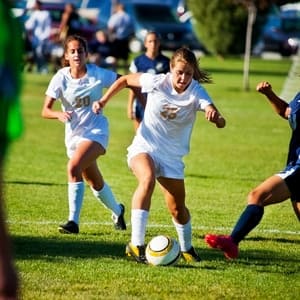 Women May Suffer Sports-Related Concussions as Frequently as Men, But Their Injuries are Studied Disproportionately 
According to a recent article in the New Jersey Herald, sports-related concussions are relatively common among women—some studies even suggest that "females suffer more concussions than males when playing similar sports"—yet are not studied sufficiently. Indeed, as the article contends, "doctors agree more research is needed on any gender differences and whether women experience more severe symptoms or take longer to recover."
Generally speaking, there has been an upsurge in traumatic brain injury research over the last several years, particularly regarding sports-related concussions and chronic traumatic encephalopathy (CTE), a degenerative disease of the brain that can result from multiple concussions over time. However, much of that research has focused on male athletes and men in general, largely researching the impacts of concussions on male football players. As a result, the topic of women and sports-related concussions remains understudied.
In response to the limited research being conducted on female brain injury patients, one social worker developed a nonprofit advocacy group in 2013 known as "PINK Concussions" in order to raise awareness about the harms of traumatic brain injuries (TBIs) among female athletes and women in general, as well as to highlight the "lack of information and research on female concussions."
Since its inception in 2013, the advocacy group has helped bring together medical professionals and military leaders at conferences designed to address women and mild TBIs. This spring, the National Institutes of Health (NIH) will host PINK Concussions' "second annual summit on female concussions and traumatic brain injuries."
According to Dr. Zachary Carr, an assistant professor of exercise and sport science at the University of North Carolina, experts in the medical field recognize the need to engage in more research related to women and concussions: "There are all these different theories out there about why concussions are higher in women than in men, but we don't really know why . . . .  We need more data collection. We need more surveillance at all levels. We need to get more information out there." In the meantime, the NCAA has partnered with the Department of Defense to conduct a three-year study on more than 25,000 female athletes.
Getting the Facts About Traumatic Brain Injuries and Sports 
How often do sports-related concussions occur? A fact sheet from Brainline.org provides the following statistics:
The leading cause of concussions differs between male and female athletes, with football accounting for the most concussions among males and soccer accounting for the most concussions among females;
Anywhere from 1.6 to 3.8 million sports-related concussions happen in the U.S. every year;
For youth athletes in high school, concussions occur most frequently in competitive sports;
The leading causes of concussions among kids and youth athletes include bicycling, football, basketball, playground activity, and soccer;
It takes longer for high school athletes to recover from concussions than college athletes; and,
A high school athlete who sustains a concussion is three times more likely to sustain an additional concussion than a high school athlete who never suffered a brain injury.
Females continue to suffer sports' related concussions in large number each year. Hopefully, the new research initiatives will help shed more light on the impact of traumatic brain injuries on these young women. In the event that someone you love sustained a brain injury, contact an experienced brain injury lawyer to determine his or her rights.