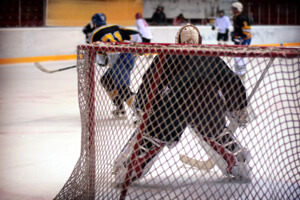 Neck Injuries in High School Sports
Even at the high school level, contact sports can lead to extremely dangerous accidents, and players can suffer catastrophic injuries. For example, earlier last month, a Monroe High School hockey player was hospitalized with a broken neck, an injury he sustained "after he was checked during a game and slammed head first into the boards," according to an article in New Jersey 12 News. The accident victim underwent emergency surgery the day after the accident to repair a fracture of the C-5 vertebra. He has shown improvement and has received an outpouring of support from all over the country.
The Monroe High School hockey coach described the accident as "a seemingly innocent play" that "changed in an instant." He explained to The Star Ledger that the victim "in pursuit of a loose puck in the offense zone, gained possession of the puck and shot it on net. In the process, he was checked from behind and went into the boards at an awkward angle."
A serious injury to your child is every parent's nightmare. Is your child safe playing high school sports? How common are high school sports injuries?
Neck Injuries and High School Sports
Many news outlets emphasize the dangers of head injuries and brain trauma associated with professional sports and sports organizations such as the National Hockey League (NHL) or the National Football League (NFL). However, it is important to remember that contact sports, regardless of the level, can have serious medical consequences.
What kinds of injuries do high school athletes risk on the field? The American Academy of Orthopaedic Surgeons (AAOS) emphasizes the dangerous nature of high school contact sports. According to the Academy, contact sports "have inherent dangers that put young athletes at special risk for severe injuries." Indeed, "even with rigorous training and proper safety equipment, children are at risk for severe injuries to the head and neck with damage to the brain or spinal cord."
In general, the AAOS explains that high school sports injuries tend to fall into two categories: acute injuries and overuse injuries.
Overuse injuries, like the name suggests – occur over a period of time and often affect muscles, ligaments, tendons, and bones. Stress fractures are a form of overuse injury.
Unlike overuse injuries – acute injuries "are caused by a sudden trauma," and they can "include collisions with obstacles on the field or between players." Acute injuries frequently include bruises, sprains, strains, and fractures.
According to the American Association of Neurological Surgeons (AANS), there are more than 14,000 neck fractures treated at U.S. hospital emergency rooms, and about 2,500 are sports-related. In other words, about five percent of the total neck fractures in America each year result from a sports injury. The AANS defines a fractured or broken neck as "a break in one of more of the cervical bones." It explains that "sports involving violent physical contact carry a greater risk of neck fracture, including football, ice hockey, rugby, and wrestling."
The tragic accident in New Jersey should put parents on alert about the inherent dangers of high school contact sports. If your child plays a contact sport- it is especially important to make sure he or she wears proper safety equipment. Helmets and other safety gear should be worn at all times.
If your child suffered a catastrophic sports injury, it is important to speak to an experienced New Jersey Accident Lawyer as soon as possible to determine if your child can be compensated for his or her injuries.