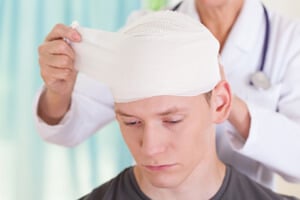 Sports-related brain injuries have been making national news over the last several years as researchers continue to learn more about the long-term effects of concussions and other head traumas. For parents who have kids that play contact sports and suffer a serious traumatic brain injury (TBI) during the game, it can be difficult to think about filing a lawsuit. Yet it is important for parents to consider whether they may be able to seek damages for their child's injury.
The numbers of sports-related TBIs is staggering. According to Cleared to Play, a nonprofit that focuses on youth sports safety, 120 sports-related deaths occurred from 2008-2009. Another 50 occurred in 2010, and an additional 40 in 2011. Those numbers do not include the high school athletes who sustained concussions and recovered from their injuries. Each year, high school athletes suffer about 2 million injuries, and more than 30,000 of those require hospitalization. Moreover, even concussions that do not cause immediate symptoms can lead to chronic traumatic encephalopathy (CTE), a potentially fatal disease.
As we now know, thanks to research conducted at the CTE Center at Boston University, multiple concussions can have serious and life-threatening consequences. Even if a high school football player suffers a concussion and recovers, if he sustains another concussion at a later date, he can be at significant risk of developing CTE, which is a "progressive degenerative disease of the brain" that is linked to those with "a history of repetitive head trauma." It can occur months, years, and even decades after the athlete suffers an initial concussion, and it can produce some of the following symptoms:
Memory loss;
Confusion;
Impaired judgment;
Impulse control problems;
Aggression;
Depression; and
Progressive dementia.
If a high school athlete sustains a fatal TBI or suffers multiple concussions that puts him or her at a greater risk of developing CTE, how do parents know when they should consider filing a lawsuit?
Concussion Management Laws
Over the last couple of years, states across the country have passed laws that govern concussion management in high school athletes. These laws, like the Concussion Management and Awareness Act in New York, require school districts to develop rules and regulations concerning athletes who sustain concussions, or mild TBIs, while they are at school or any school-related event. These laws are aimed at preventing concussions from happening, as well as helping to reduce the risk of long-term consequences from these injuries.
Given that a number of sports-related concussions in the Philadelphia area have made the news over the last year, a closer look at Pennsylvania's laws gives insight into whether or not parents might have a valid negligence claim. In Pennsylvania, the Department of Health and the Department of Education are required to develop and post guidelines concerning the risks of TBIs, and the long-term risks—such as CTE—associated with returning to play. Students and their parents must review concussion materials and sign an acknowledgement that they in fact reviewed this material.
Furthermore, any student who shows signs or symptoms of a concussion must be removed from play. That student must be evaluated and cleared to return to play, in writing, by an "appropriate medical professional." Such a medical professional can include a licensed physician, healthcare professional, or psychologist who is trained in the evaluation and management of concussions. In addition, coaches must annually complete a concussion management certification course prior to coaching. If a coach violates the rules concerning removal from play or return to play, he or she will be suspended.
Filing a Sports-Related TBI Claim
Based on the information regarding Pennsylvania law stated above, if your high school athlete sustained a concussion during play, you may be able to file a claim for financial compensation in the event that one or more of the following criteria was not met:
Your child was not immediately removed from the field when the coach noticed concussion symptoms;
Your child was not evaluated for a concussion by an appropriate medical professional and was allowed to return to play; and/or
The medical professional that evaluated your child did not clear him or her to return to play in writing before he or she returned to play; or
Your child's coach did not complete a concussion management course prior to your child's injury.
In the above scenario, you may be able to file a negligence claim against the school district or another related person or entity. Furthermore, you may also be able to consider a product liability claim against the manufacturer of your child's safety equipment. For example, a number of NFL players have sued a major helmet manufacturer, arguing that the helmets used in the NFL to prevent concussions were defective.
Contact an Experienced Brain Injury Lawyer
Filing a concussion lawsuit can be complicated, and you may not know who could be liable for your child's injury. An experienced brain injury attorney at The Rothenberg Law Firm can assess your case to determine if we are able to assist with your child's sports-related TBI claim.