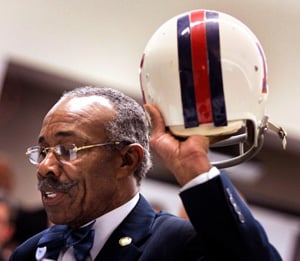 Majority of Deceased Football Players Suffered from CTE 
According to a recent article from Yahoo! Sports, a new study that examined the brains of deceased NFL players determined that 96 percent of those athletes suffered from the degenerative brain disease better known as chronic traumatic encephalopathy (CTE). The study was conducted for a PBS Frontline special focusing on "America's most popular sport," which aimed to show how football players can be at a particularly high risk of lifelong repercussions from traumatic brain injuries (TBIs).
The researchers involved in the study looked at the brains of 91 former NFL players and determined that 87 of those former players' brains had signs of CTE, which often results from multiple sports-related concussions. The study was conducted by experts from the Department of Veterans Affairs and Boston University. When researchers expanded their data set to include football players from all levels—including high school players, college players, semi-professionals, and NFL players—they discovered that signs of CTE existed in nearly 80 percent of the brains studied.
The researchers did note that the subjects of their study were former players who "donated their brains for testing because they suspected they were suffering from CTE." In other words, the study did not have a random sampling of former football players from which to determine the likelihood of CTE. However, Ann McKee, the director of neuropathology at the Veterans Affairs Boston Healthcare System, emphasized that "the results were consistent with previous research indicating a link between football and brain injury." The report underscored the fact that CTE can only be definitively diagnosed after death. As such, researchers must rely on the brains of former players who may have died as a result of the disease.
McKee highlighted that CTE is not a rare disease that is being sensationalized through studies like this one. She lamented that "people think that we're blowing this out of proportion, that this is a very rare disease and that we're sensationalizing it." To comments like these, McKee says: "My response is that where I sit, this is a very real disease. We have had no problem identifying it in hundreds of players."
Knowing the Symptoms of CTE
A fact sheet from the Mayo Clinic explains the stages of progression of CTE, which can help athletes who have sustained multiple concussions over the course of their careers to understand if they need to seek medical help:
Stage I: headaches, loss of attention, and loss of concentration;
Stage II: depression, explosive behaviors, and short-term memory loss;
Stage III: decision-making dysfunction and general cognitive impairment; and
Stage IV: dementia, difficulty finding words, and extreme aggression.
If you or your loved one is experiencing the above symptoms as a result of multiple concussions, contact an experienced brain injury attorney to discuss your situation.