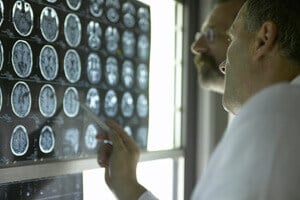 Brain Injuries in Kids
A recent study reported in The New England Journal of Medicine articulated newly discovered differences in the ways that young children, teens, and adults sustain traumatic brain injuries (TBIs). According to a press release from Washington University in St. Louis, the authors of the study are researchers and professors at Washington University School of Medicine in St. Louis and the School of Medicine at the University of California, Davis.
The study looked at more than 43,000 kids who had sustained head traumas, and it presents "an unprecedented picture of how children most frequently suffer head injuries." It surveyed children with brain injuries between the years 2004-2006, and it took a wide geographic sample, examining data collected from 25 different hospitals across the country. Researches also examined children with varying degrees of brain injuries, —from "deep coma to normal neurologic status." The researchers in the study concluded based on data, that young children sustained childhood head injuries most often from fall-related accidents, while teens frequently suffered TBIs resulting from car accidents, contact sports, and assaults.
Previous research showed TBIs to be the "leading cause of death and medical complications in children older than 1 year." However, until the recent study, no one had fully investigated the cause of these injuries nor the way that a child's age may factor into the analysis. The authors of the recent study hope that their findings will allow policymakers and child safety advocates to find new ways of preventing head injuries. In addition, the researchers believe that physicians will be able to better diagnose and treat head injuries sustained by young children.
Statistical Findings: Childhood Brain Injury Data
For children between the ages of 2 and 12 years old, the study determined that falls were reported as the most common cause of a TBI. The following are statistics concerning this age group based on graphs developed for a report from NPR:
Falls from elevation, or falls from heights, accounted for 24 percent of all reported brain injuries.
Falls to the ground from a standing, walking, or running position accounted for 14 percent of reported head traumas.
For kids in this age group, falls led to 38 percent of all reported TBIs. The next most common cause involved an accidental strike to the head with an object, which accounted for 9 percent of reported brain traumas.
For children under the age of 2, however, falls figured even more prominently into the cause of TBIs. Indeed, falls accounted for nearly 80 percent of all reported brain injuries suffered by children in this age group. The statistics look like this:
Falls from elevation, or falls from heights, accounted for 54 percent of reported TBIs in children under age 2.
Falls down stairs also resulted in serious head traumas, accounting for 14 percent of those reported.
Very young children also sustained head injuries from falls to the ground, which accounted for 9 percent of reported TBIs.
Falls can be extremely dangerous, especially for young children. If your child sustained a head injury, it is important to seek medical attention right away. Depending on the circumstances, you may be able to seek financial compensation for your child's injury. Contact an experienced brain injury attorney to determine your rights.