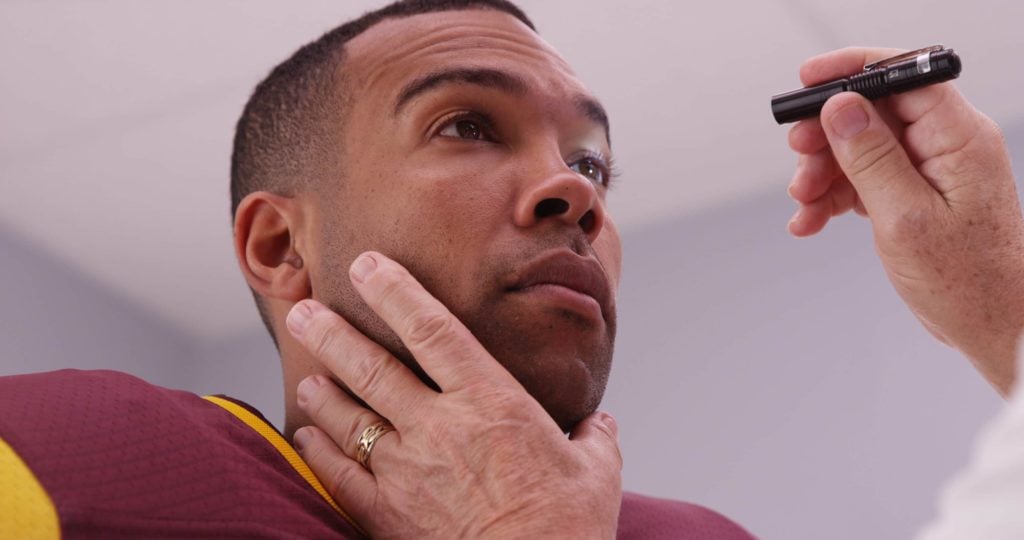 Non-Invasive Concussion Test Will be Available for Children and Adults in the U.S.
Concussions and other forms of traumatic brain injury (TBI) can be difficult to diagnose definitively. Indeed, while parents and sports coaches can have trouble being certain about whether they are seeing signs and symptoms of concussions in youth athletes, for instance, even medical professionals can make mistakes in diagnosing concussions in certain situations, thereby impeding proper concussion injury treatment. According to a recent article in Medpage Today, the U.S. Food and Drug Administration (FDA) just approved a new non-invasive concussion test that will be available to patients in U.S. markets.
The new concussion test, according to the article, "requires no baseline assessment" and only takes four minutes. The FDA approved it for use in patients between the ages of 5 and 67. The neurodiagnostics company Oculogica is the maker of the concussion test, which will be sold in the U.S. as EyeBOX. It is the first of its kind to be approved by the FDA. The product initially will be available only in "select, qualified sites." The FDA approved EyeBOX through the "de novo" pathway, which is a medical device approval route for "novel, low- to moderate-risk devices."
How does the concussion eye test work? The article explains that "patients watch a short video with their heads placed in a chin-and-forehead rest similar to those commonly used in optometry clinics." Then, "eye movements are analyzed with a proprietary algorithm." Based on data from an Oculogica study, EyeBOX is 72% accurate when used on children with suspected concussions, and it is 84% accurate when it is used on patients an average of 22 weeks after the initial injury. With these initial results in mind, there is hope that EyeBOX can be important as a youth sports concussion test, in particular. The study assessed the accuracy of the concussion test on 282 patients, a group that included both children and adults.
Getting the Facts About Concussions
How often do concussions occur, and what other concussion facts should patients and their families know? The U.S. Centers for Disease Control and Prevention (CDC) explains that concussions are a form of mild traumatic brain injury, and TBIs are "a major cause of death and disability in the United States." The following are some facts and figures concerning concussions and TBIs more generally that may assist with overall concussion injury treatment:
About 30% of injury deaths involve TBIs;

The majority of TBIs each year are concussions;

TBIs contributed to 2.8 million emergency department visits and hospitalizations in 2013 and over 50,000 deaths;

Between 2007 and 2013, TBI-related emergency department visits rose by almost 50%;

Approximately 329,000 children and teenagers receive youth sports concussion treatment each year for TBIs resulting from sports-related injuries;

Falls are the leading cause of TBIs;

Being struck by an object is the second-leading cause of TBIs for all age groups;

Motor vehicle crash injuries are the third-leading cause of TBIs; and

Between 2001 and 2012, sports-related TBIs increased by more than 50% among children and teenagers.
If your child or someone you love sustained a concussion, you should learn more about your options from a brain injury lawyer.