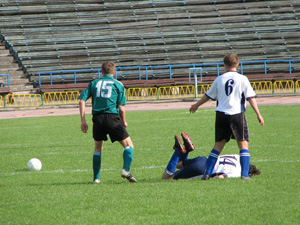 CTE Diagnosed in Soccer Player, Suggests Riskiness of Sport
When news about chronic traumatic encephalopathy (CTE) first began emerging in the last few years, researchers linked the disease to one resulting from multiple concussions or brain injuries. Naturally, physicians began to look more closely at professional athletes and others involved in contact sports. For most people, this means boxing, football and hockey - all sports in which players are at frequent risk of being hit in the head. While medical professionals have known for decades that the neurological disease affects boxers, it has only been linked to professional football and hockey in recent years. Yet, an article in ABC News suggests that we may need to pay more attention to soccer players as well.
According to the article, Patrick Grange, a 29-year-old former soccer player who passed away in 2012, was recently diagnosed postmortem with CTE. The diagnosis has "drawn attention to the possibility that a sport formerly thought of as 'safer' than football or hockey can still result in degenerative effects on the neurological system." Grange died from a "degenerative motor-neuron disease" that researchers have described as one similar to amyotrophic lateral sclerosis (ALS), or Lou Gehrig's disease.
Grange had played college soccer at the University of Illinois-Chicago and the University of New Mexico before moving onto the Premier Development League in Chicago. According to the New York Times, Grange is the first soccer player confirmed to have had CTE.
How did Grange develop CTE while playing a sport traditionally considered "safe"? The New York Times article emphasized the fact that Grange liked "heading" the ball when he played. Those hits to the head were likely culprits of his CTE symptoms, and ultimately of his ALS diagnosis. His parents indicated that their son had begun showing signs of the disease years before his death, as he "had trouble even balancing a checkbook, and impulsively left a job to try out for a soccer team."
Diagnosis, Signs, and Symptoms of CTE
The CTE Center at Boston University explains that CTE is "a progressive degenerative disease of the brain found in people with a history of repetitive brain trauma, including symptomatic concussions as well as subconcussive hits to the head that do not cause symptoms." As the ABC News article mentioned, it has been discovered in professional athletes, including football and hockey players, in recent years, and it has also been diagnosed in military veterans. A history of traumatic brain injuries could make you susceptible to this disease.
Researchers believe that CTE results from repetitive brain trauma, typically caused by multiple concussions. It is important to keep in mind that genetic factors may also play a role, and not all people who have sustained multiple concussions or head traumas develop CTE.
How is it diagnosed? The only definitive way to diagnose the disease at this point is through a postmortem neuropathological analysis. That is scientific terminology that means the disease can only be diagnosed after death. There is no sure way to diagnose it in a living person, but researchers are constantly developing new ways to diagnose the disease earlier.
How can you know whether your loved one might be suffering from CTE? According to the CTE Center, symptoms include:
Memory loss;
Confusion;
Impaired judgment;
Problems with impulse control;
Aggressive behavior;
Depression;
Anxiety;
Suicidal behavior; and
Dementia.
Physicians at the center explain that these symptoms begin many years, and sometimes even decades after the initial head traumas occur. As such, it is important to think about whether your loved one may be at risk of CTE even though he or she has not experienced a recent concussion or other head trauma.
If you or a loved one might be suffering from CTE after playing contact sports, you may be able to file a claim for compensation and should contact a traumatic brain injury lawyer.