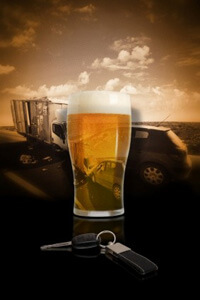 Trucking accidents and impaired driving
Driving a big rig truck requires specialized training.  If a large tractor-trailer truck is involved in an accident, the damage and injuries tend to be more significant than accidents involving single passenger vehicles. 
According to a truck crash study conducted by the Federal Motor Carrier Safety Administration, a division of the U.S. Department of Transportation, truck drivers are often affected by several types of physical factors that contribute to accidents.  Fatigue, as well as prescription and over-the-counter drug use, rank among the more common factors in the study.  Alcohol and illegal drug use tend to be scarce factors.

Despite its rarity in the above study, alcohol consumption and truck driving accidents nevertheless still occur.  Philadelphia's NBC10 reported this past summer that a Pennsylvania truck driver crashed into a car on the Newburgh-Beacon Bridge.  The tractor trailer driver in this instance was charged with – among other violations – drunk driving.  The truck driver allegedly drove his tractor-trailer into oncoming traffic, seriously injuring the driver of the car he hit.  The truck driver had a BAC of 0.11 percent and was charged with vehicular assault, driving while intoxicated and criminal possession of a controlled substance.

Do impaired driving laws differ for commercial truck drivers?
All drivers are subject to impaired driving laws in the United States.  It is illegal to drive under the influence of alcohol or drugs – or both – in the United States.  The laws and penalties concerning driving under the influence (DUI) or driving while intoxicated (DWI) vary from state-to-state.  In general, across the United States – a person driving an automobile with a blood alcohol content (BAC) level of 0.08 percent or higher is considered legally 'impaired.'
Although the general BAC level for an automobile driver is .08 percent, there are more stringent 'under the influence' driving laws that apply to operators of big rigs.
In most jurisdictions, the threshold BAC level for drivers of commercial vehicles, such as truck drivers, is lower than the 0.08 percent for drivers of passenger vehicles.  Most states, including, New York, Florida, Pennsylvania and California – set the BAC level for truck drivers at 0.04 percent.
While each state has its own CDL DUI statutes, most CDL DUI laws dictate the following:

A commercial vehicle operator that is under the influence of drugs or alcohol with a BAC of 0.04 percent or higher is in violation of the law and will be arrested for DUI.
If a commercial vehicle operator does not submit to a BAC test, that driver is in violation of the law and will be arrested.
The CDL will be revoked for one year following a DUI arrest.
If the commercial vehicle carries hazardous materials – the CDL will be revoked forthree years following a DUI charge.
If a commercial driver receives a second CDL DUI – the CDL is permanently revoked.
A commercial driver with any trace measurement of alcohol, even if it is less than 0.04 percent, is not permitted to drive for a 24-hour period.
The above statutory provisions for commercial truck drivers have helped deter drivers from driving under the influence. Sadly, even with the above measures, there are still unfortunate accidents that occur as a result of a truck driver operating his vehicle while impaired.  Therefore, if you or someone close to you has suffered an injury as a result of a truck accident – contact an experienced truck injury attorney to discuss your rights.