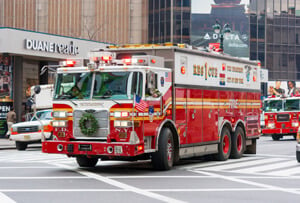 Severe Pedestrian Accident Caused By Fire Truck in Manhattan
According to a recent article from NBC New York, a fire truck accident resulted in serious injuries to a 34-year-old pedestrian earlier this month at the intersection of East 15th Street and Irving Place. First responders indicated that the man had attempted to cross the street in a crosswalk when a "don't walk" sign was displayed, alerting pedestrians of oncoming traffic. Initial reports indicate that he suffered a severe leg injury and received treatment at Bellevue Hospital Center.
A report in the New York Daily News further explained that the city's fire truck had "lights and sirens blaring" when it struck the pedestrian near Union Square. What else do we know about the pedestrian accident? The fire truck involved in the crash was a Ladder Company 3 truck that had been responding to a gas leak report nearby.
Fire Truck Dangers and Pedestrian Accidents 
How often do fire truck accidents happen? According to an analysis from the Association for the Advancement of Automotive Medicine, fire truck accidents occur at a rate of around 30,000 accidents each year. When firefighters are injured, the failure to wear seatbelts is often a factor. Rollover crashes occur more often than we might expect in fire trucks, and the failure to wear seatbelts can be particularly dangerous when these crashes occur. Every year, between 20 to 25% of all firefighter deaths result from motor vehicle accidents that occur while firefighters are on duty.
What can pedestrians learn from this accident? A fact sheet from the Centers for Disease Control and Prevention (CDC) emphasizes that thousands of pedestrians suffer fatal injuries every year and it is important for pedestrians to always pay attention while walking. The CDC reports the following statistics:
Every 24 hours, an average of 445 pedestrians will require treatment in an emergency department for a pedestrian accident.
Every two hours, on average, a pedestrian will die as a result of a traffic-related injury.
In 2012, 4,743 pedestrians sustained fatal injuries in auto collisions.
In 2012, about 76,000 pedestrians suffered serious injuries in a traffic accident.
Male pedestrians are more likely than female pedestrians to suffer serious or fatal injuries in a crash.
Pedestrians between the ages of 15-29 years old are more likely than pedestrians in other age groups to become the victims of a pedestrian accident.
About 34% of all pedestrian-accident fatalities in 2012 involved a pedestrian who was "legally drunk."
About 25% of all traffic deaths involving kids under the age of 15 are pedestrian accidents.