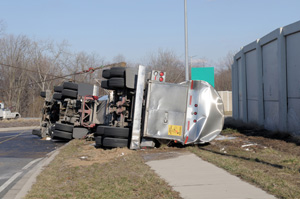 Researchers Cite Fatigue, Health, and Cellphones as Factors in Truck Accidents 
If you are passing a large truck on the highway, it is important to drive cautiously as trucking accidents often result in fatalities, according to data from the Federal Motor Carrier Safety Administration (FMCSA). What are some of the key risk factors when it comes to trucking collisions? According to a recent article published by The University of Utah- fatigue, health issues, and cellphones are often the things to blame when these deadly crashes occur.
The article cited a new study conducted by an assistant professor of family and preventive medicine at the University of Utah. The study's author, Matthew Thiese explained how "conditions that are characteristic to a truck driver's job may be putting them in danger." No one is suggesting that illegal cellphone use is simply part of the job. However, long and difficult driving conditions, combined with a general lack of exercise, may be playing a role in deadly truck crashes.
To properly assess the factors that contribute to truck accidents, "the researchers surveyed nearly 800 truckers," determining that both fatigue and cellphone use were "strongly associated with crash risk." At the same time, the study also determined that high pulse pressure was a risk factor for trucking collisions.
What leads to fatigue and high pulse pressure? Several factors that are considered by researchers as "characteristics common to truck driving," include, but are not limited to:
Stress;
Working long hours;
Performing heavy lifting;
Not getting enough sleep; and
Not getting enough exercise.
When truckers are not healthy or suffer from fatigue, or when they use cell phones behind the wheel, a deadly accident can happen. If you or a loved one suffered serious injuries in a trucking crash, contact a truck accident lawyer to learn more about your rights.