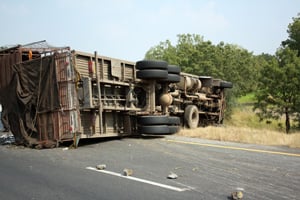 Are We Doing Enough to Prevent Fatal Truck Accidents?
Statistics suggest that fatal truck accidents are on the rise across the country, but there has not been a national outcry over these deaths. According to an article from NBC News, when we see this many fatal injuries in other industries—thousands per year—news of those deaths "would generate a national outcry." However, since trucking accidents tend to make local rather than national news, and are "scattered in small numbers across the country," most Americans do not realize the severity of this issue.
Some suggest that trucking accident fatalities simply might be the "cost of doing business" in our country. Large trucks are necessary for economic growth and the buying, selling and transporting goods across state lines. Business industries and the US government are worried about placing too many restrictions that may cause harm to the country's ability to do business.
The need for protecting business interests is important to the economy, but what about families that suffer the consequences of trucking crashes? Should we accept that accidents happen, or can more be done more to prevent truck crashes and to raise awareness about the severity of these often-deadly collisions? Recognizing the frequency of truck accidents, is the first small step towards raising awareness of a very serious danger that exists on almost all US roads and highways.
Truck Accident Statistics: How (Un)Safe Are US Highways?
Based on data from the Federal Motor Carrier Safety Administration (FMCSA), more than 10 deadly truck crashes occur each day in the U.S., and almost 4,000 accident victims sustain fatal injuries annually. In addition to those deaths, more than 100,000 serious injuries result from trucking accidents every year.
Here are some of the key statistics surrounding fatal truck accidents as reported by the FMCSA and the National Highway Traffic Safety Administration (NHTSA):
In 2012, NHTSA identified 3,921 truck accident fatalities.
That same year, 104,000 people sustained serious injuries from trucking collisions.
The total number of fatal accidents rose by 18 percent between 2009 and 2012.
Following inspections in 2012, nearly 5 percent of truck drivers were taken off the road because they had too many driving violations (for a total of 171,150 drivers).
After vehicle inspections that year, more than 20 percent of long-haul trucks were taken off the road because they had too many mechanical and/or safety violations (for a total of 2,145,733 trucks).
What are some of the most common causes of truck accidents?
Drowsy driving;
Speeding and other forms of aggressive driving;
Trucking companies that do not perform sufficient background checks; and
Limited safety technologies.
The statistics surrounding the number of fatalities per year due to truck accidents is frightening. Unfortunately, serious truck accidents continue to occur on a daily basis. If you or a loved one has sustained serious or fatal injuries as a result of a truck accident, you should contact an experienced truck accident attorney to discuss your case.