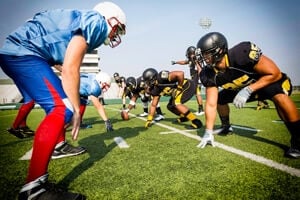 A Chicago mother who tragically lost her son following a football-related injury recently filed suit against the city school board and the helmet manufacturer, alleging both parties failed to take reasonable steps to ensure the equipment her son wore functioned properly. The varsity football player was only 17 years old when he passed away after taking a blow that caused is head to hit the turf.
In addition to naming the school board, the plaintiff also named the helmet manufacturer, Riddell. Riddell is an Illinois-based sport equipment manufacturer founded in 1929 that has manufactured helmets for the National Football League for decades. In her suit, the victim's mother alleges that the company should have known the helmets could be "unreasonably dangerous" if the air bladders are not inflated properly. The claim also states that Riddell failed to warn users about the foreseeable risk of injury. Riddell faces other similar lawsuits from former professional players over its alleged failure to warn players about the risk associated with possible design flaws.
Failure to Warn May Lead to Serious Injuries or Death
Manufacturers have a legal duty not to place negligently designed or manufactured products in the stream of commerce where ordinary people may be hurt. All too often, companies put profits ahead of what is best for the public, choosing not to disclose important safety information for fear it could harm sales and their bottom line.
Proving liability in a product liability case is key to a successful outcome and one that defendants will rigorously defend against in order to avoid responsibility. Product safety laws require manufacturers to employ reasonable care when designing, building, testing, and inspecting their product to ensure it does not pose an unreasonable risk to the consumer. Furthermore, many products are intended to carry warning labels informing consumers about foreseeable risk of injury or death if not used properly.
Additionally, goods sold first hand come with warranties providing consumers with certain legal rights in the event they suffer harm. Express (written) warranties are representations made by the manufacturer about the product's safety. Implied warranties are implied promises by the product maker that the product will not cause harm to the consumer if used properly.
Proving Manufacturer Negligence
An experienced product liability attorney can help victims better understand their rights as consumers to hold wrongdoers accountable and prevent harm from happening to others. Therefore, if you or someone you love was injured as a result of a defective product, you should contact an experienced product liability attorney to determine your rights.