While most childbirths result in a healthy baby, medical malpractice can lead to severe birth injuries that may have been avoidable.  In particular, brachial plexus injuries can prevent babies from properly using their arms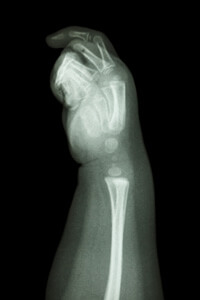 and shoulders.  These birth injuries only occur in about one to two out of every 1,000 babies born, but they can have long-term effects on a child's health and well-being. Different types of brachial plexus injuries exist.  Depending on which brachial plexus nerves were affected by the injury, either Erb's palsy or Klumpke palsy can develop.
Erb's palsy typically affects movement and feeling in the upper and/or lower arm; and
Klumpke palsy typically affects movement and feeling in the hand.
Some babies who suffer brachial plexus injuries will recover in a matter of months, but others will require intense physical therapy and surgery, and some may never fully recover.  The prognosis depends on the severity of the injury, and each case is different. The attorneys and staff at The Rothenberg Law Firm understand the hardships of taking care of a child with a brachial plexus injury and we are there for parents every step of the way.  For decades, our attorneys have been successful in winning multi-million dollar awards for our clients.  Our goal in representing you is to make sure you receive the highest compensation possible as well as the best care for yourself and your child outside of the legal arena.
**** Your initial consultation is always free and we do not take any fee from you unless and until we are successful in winning money for you and your child.
**** You can call our office and ask to speak with one of a number of our attorneys or staff members who are parents themselves and can relate to the difficulties you may be facing.
**** We will consult with medical experts on your behalf to determine if your child's injury could have been prevented.
What is a Brachial Plexus Injury?
The brachial plexus is a network of nerves that sends signals from your spine to your shoulder, arm, and hand.  When this network of nerves is stretched or ruptured, a patient can lose feeling in the arm, and some can suffer permanent paralysis.  Most brachial plexus birth injuries occur when the upper nerves of the brachial plexus are affected, according to the American Academy of Orthopaedic Surgeons (AAOS).  This type of brachial plexus injury is known as Erb's palsy.
Types of Injuries to the Brachial Plexus
It is important to know that there are several different kinds of nerve injuries that can affect the brachial plexus.  The severity of the injury depends on where it happens and the type of injury (stretch, partial tear, complete tear).  Types of injuries include the following:
Neurapraxia: this is the least severe type of brachial plexus injury. It is typically known as a stretch injury that "shocks but does not tear the nerve," and it is the most common form of injury to the brachial plexus.  In most cases, this injury heals without substantial treatment in about 3 to 6 months.
Neuroma: this is a more severe type of stretch injury that leads to nerve fiber damage and some scar tissue.  When the scar tissue remains on the healthy nerve, it is known as a neuroma.  A patient will typically have a partial recovery from this injury.
Rupture: this is a stretch injury that is so severe that the nerve is partially ruptured or torn.  It cannot heal on its own and will require substantial treatment.
Avulsion: this is the most severe type of injury to the brachial plexus.  It occurs when the nerve is completely ruptured from the spinal cord.  In some cases, intensive surgery may be able to restore some function to the affected area.
Causes of Brachial Plexus Injuries at Birth
In general, brachial plexus injuries occur when a baby's head or neck is stretched during birth.  Risk factors for these serious birth injuries can include:
Especially large newborn;
Breech (or feet-first) delivery; or
Shoulder dystocia, a situation in which the baby's head has emerged from the birth canal but the shoulder is still lodged inside.
If your child has suffered a birth injury, it is important to discuss your case with an experienced birth injury attorney who can determine if you are eligible to file a claim for financial compensation.