Birth Defects and Medical Negligence
Birth defects can result from a number of different factors such as environmental toxins or medication side effects.
What are Birth Defects?
According to the Centers for Disease Control and Prevention (CDC), birth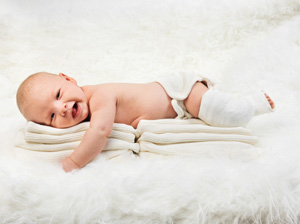 defects are "serious conditions that are changes to the structure of one or more parts of the body." Birth defects can range from mild to severe, and the seriousness of the defect often depends on the area of the body affected. Each year, 1 in every 33 babies is born with a birth defect. That is one baby every 4.5 minutes, and approximately 120,000 babies every year in the United States alone.
Birth defects can affect nearly any part of a baby's body. The CDC explains that the most common birth defects tend to affect the heart, brain, and limbs and they can influence the function or appearance of a baby's body. In many cases, a serious birth defect can threaten the expected lifespan of your infant.
There are certain circumstances in which you may be eligible to file a claim for compensation if your child was born with a birth defect. An experienced birth defect lawyer at The Rothenberg Law Firm will explore all of the circumstances surrounding your pregnancy and your child's birth to determine if you are eligible to bring a personal injury claim on behalf of your child.
****Your initial consultation with one of our attorneys is always free and we do not take any fee from you unless and until we are successful in winning money for you and your child.
****We will consult with medical experts on your behalf to determine if your child's injury could have been prevented.
****You can call our office and ask to speak with one of a number of our attorneys or staff members who are parents themselves and can relate to the difficulties you may be facing.
Types of Birth Defects
Generally speaking, most parents will learn about a birth defect within the first year of an infant's life. However, it is important to remember that birth defects can also be identified before birth or even several years afterward. Depending on the type of birth defect, it can be visible to a parent or physician, or it may require special diagnostic procedures or tests to determine its presence and severity.
The CDC identifies the following as the most commonly reported types of birth defects:
Neural tube defects: neural tube defects affect the spine, spinal cord, and/or brain of an infant. They are often debilitating and life-threatening conditions. Common examples include anencephaly and spina bifida. Anencephaly occurs when a baby is born without certain parts of the skull and brain, and spina bifida affects the bones around the spinal cord. Neural tube defects occur in approximately 3,000 births each year.
Cleft lip or cleft palate: these defects result from a baby's mouth or lip not forming properly during a pregnancy. They are a type of "orofacial clefts," and the CDC estimates that they occur in more than 2,500 babies born annually.
Congenital heart defects: congenital heart defects, or CHDs, affect the structure and function of an infant's heart. They are the most common type of birth defect, occurring in nearly 40,000 babies each year according to the CDC. Congenital heart defects are present at the time of birth, and about 25 percent of infants born with these defects require surgery. Some types of CHDs include: atrial septal defect, atrioventricular septal defect, hypoplastic left heart syndrome, pulmonary atresia, transposition of the great arteries, and ventricular septal defect.
Down syndrome: this condition results from a baby having an extra chromosome. An extra chromosome affects how a child's brain and body will develop. Children with Down syndrome can experience both mental and physical difficulties. The CDC estimates that about 6,000 infants, or 1 in every 700 babies, are born with Down syndrome each year.
Causes of Birth Defects
While we do not know the precise cause of all birth defects, medical professionals emphasize the fact that expectant mothers should be particularly careful about taking certain medications and being exposed to particular environmental elements.
Some environmental toxins that have been linked to birth defects include:
Radiation;
Petroleum products;
Mercury, lead, and other heavy metals;
Arsenic;
Paint;
Formaldehyde;
Certain cleaning solutions;
Insecticides and DEET; and
Aspartame.
Certain medications have also been linked to serious birth defects, including:
Accutane and other retinoids;
Selective serotonin reuptake inhibitors (SSRIs) and other drugs used to treat depression;
Phenylephrine and certain cold medicines or nasal decongestants; and
Opioids.
In addition to prescription and over-the-counter medications, alcohol and tobacco have also been connected to many birth defects. It is very important to talk to your doctor about any medications you are taking during pregnancy.
If your child has a birth defect, you may be able to file a claim for compensation. Contact an experienced birth defect attorney for free to learn about your options.