Looking for answers and assistance following a motorcycle accident in Brooklyn? The experienced attorneys at the Rothenberg Law Firm understand how upending a sudden collision can be — particularly when it involves catastrophic injuries.
We can investigate the root cause of the crash, explore issues of liability, and help you recover the maximum compensation allowed by law.
While we can't undo the damage that has been done, we can help you or your loved one by holding at-fault parties accountable for their actions. We will make sure to fight for all of the money you deserve to cover lost wages and medical bills – past, present and future. Many motorcycle accident settlements and court awards also include estimated compensation for the pain and suffering your family has endured. All you need to do is focus on recovery- we handle everything else!
Contact a Brooklyn personal injury lawyer for a FREE, no-obligation consultation as soon as possible.
How Common Are Motorcycle Accidents in Brooklyn?
While plenty of people ride a motorcycle in Brooklyn without incident, the number of accidents involving motorcyclists is disproportionately high to the number of registered vehicles. Brooklyn is among the boroughs with the highest number of motorcycle collisions.
According to the New York City Department of Transportation's Motorcycle Safety Study:
Motorcycles represent just 2% of registered vehicles in NYC, but account for 14% of traffic fatalities.
Motorcycles also account for 7% of serious injuries in NYC traffic accidents.
NYC's fatal crash rate for motorcyclists is nearly twice the rate for New York State motorcyclists.
In NYC, 89 per 100,000 motorcyclists get into accidents — much higher than the national average (56).
The Bronx and Brooklyn have the highest rate of motorcycle accident fatalities.
Over a four-year period, there were 62 fatalities in Brooklyn (6% of registered motorcyclists).
The NYC police department recorded 122 motorcycle accidents in Brooklyn in one month (August 2022).
Most Dangerous Roads for Motorcyclists in Brooklyn
A motorcycle accident can happen anywhere in Brooklyn, but National Highway Traffic Safety Administration data indicates that the busiest intersections and expressways see the most accidents each year, including: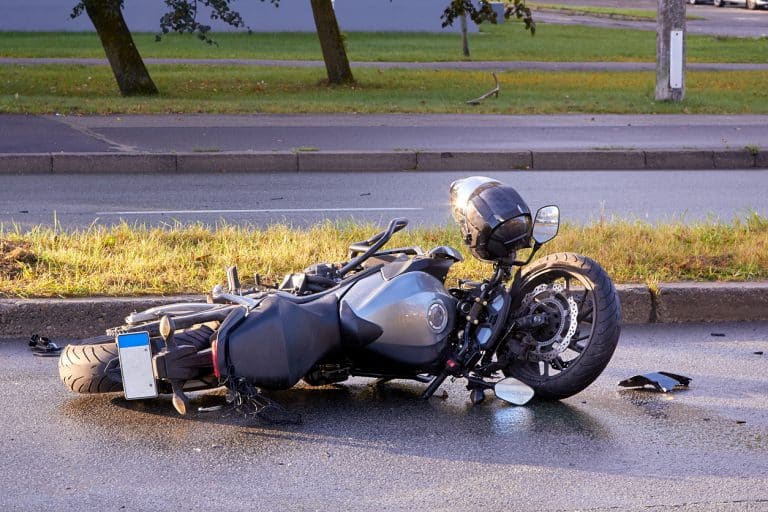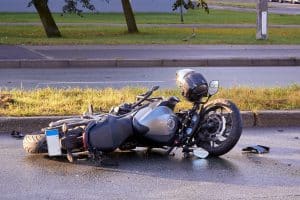 5th Avenue
Atlantic Avenue and 4th Avenue
Bedford Avenue and Nassau Avenue
Division Street
Flatbush Avenue
Fulton Street
Kings Highway
Types of Motorcycle Accidents
Different types of motorcycle accidents bring up different types of liability questions. For instance:
Rear-enders often occur in stop-and-go traffic or when a motorcyclist is stopped at a light and the vehicle behind fails to see it and hits the motorcycle from behind.
Side-swipes occur when a vehicle traveling in the same direction as the motorcyclist suddenly changes lanes, failing to see the motorcycle in the blind spot and hits it. Drivers who are drowsy, inattentive, or under the influence may swerve out of lane suddenly, striking the motorcyclist.
T-bones occur when a vehicle drives straight into the side of a vehicle, traveling perpendicular. These crashes typically occur at intersections. Most commonly, the vehicle's driver is distracted or speeding through a yellow or red light and fails to yield the right of way.
Head-on collisions occur when a vehicle traveling in the opposite direction drives directly into a motorcyclist. Typically, the driver is drunk or under the influence of drugs, drowsy or distracted, and going the wrong way on the highway or veering over the line. Head-on collisions often result in wrongful death.
Sometimes the worst part is not knowing what really happened. A Brooklyn motorcycle accident lawyer can help you investigate.
Causes of Motorcycle Accidents
The most common contributing factors to motorcycle accidents include driver inattention, failing to yield right of way, following too closely, and passing too closely or improper lane usage. Often, we find motor vehicle drivers are simply not looking out for motorcycles on the road. They can be held liable for negligence when they drive through red lights, speed, drive under the influence, or change lanes without signaling.
In some cases, road hazards can cause a motorcyclist to lose control of the bike. The government or road resurfacing crew may be held liable in some cases where debris like loose gravel, visual obstructions, or spills lead to unsafe driving conditions. Again, it is important to discuss your case with a motorcycle lawyer to understand your rights to compensation.
As New York is a No-Fault state, make sure you contact a lawyer to determine your benefits.
Common Injuries
There are many types of motorcycle injuries. Always contact a lawyer right away for injuries associated with your crash.
The following are the most common motorcycle accident injuries:
Amputations
Broken bones
Burns and severe road rash
Head trauma
Internal organ perforations
Paralysis
Spinal cord damage
What Types of Damages Are Available to Motorcycle Accident Victims?
Motorcycle accident victims can receive a wide range of compensatory benefits, including: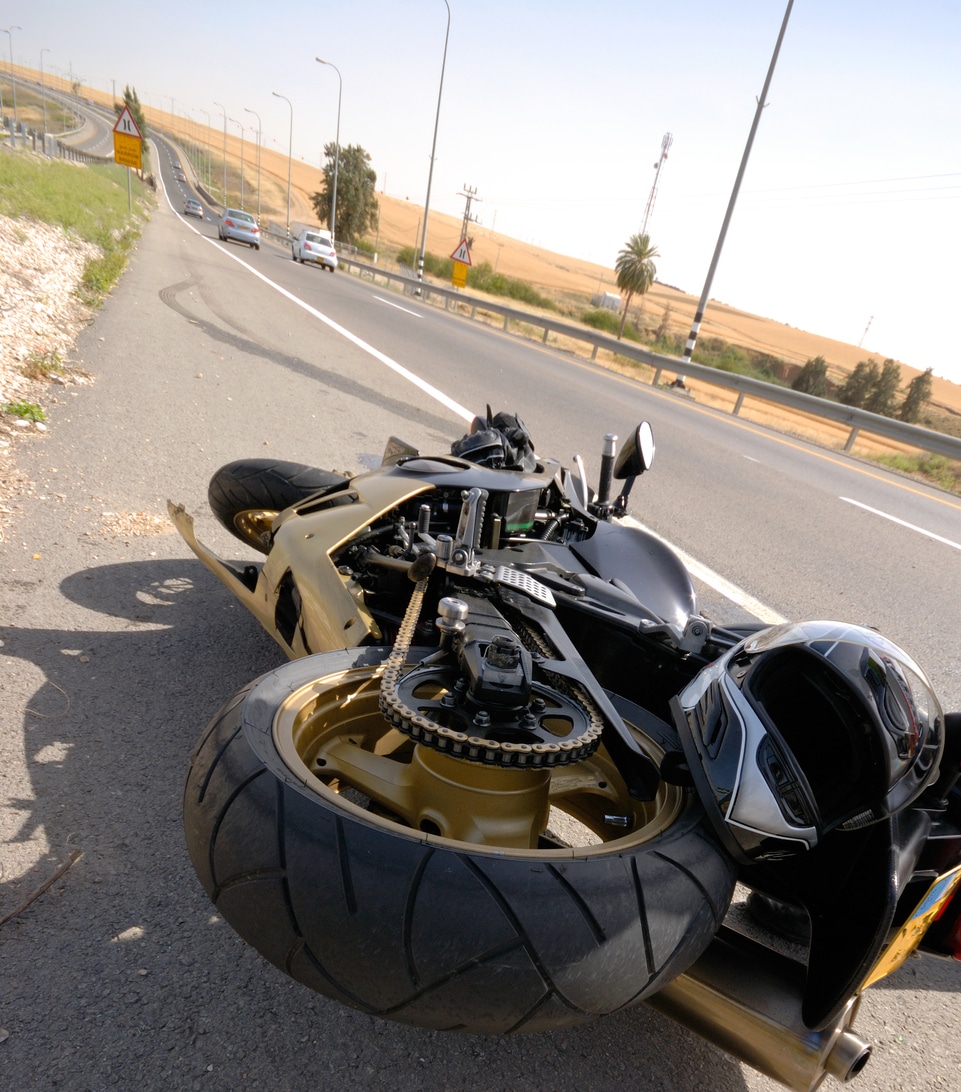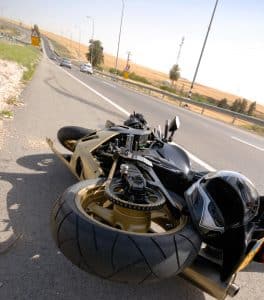 All related past, present, and future medical and rehabilitative expenses
Past, present, and future lost wages and disability
An estimated amount of compensation for pain, suffering, and disfigurement
Wrongful death benefits for surviving family members
In some cases, punitive damages when gross negligence can be proven
Statute of Limitations
New York State allows up to three years from the crash date to file a motorcycle accident lawsuit. However, in some cases, the window of opportunity can be much shorter. If you're suing a government entity, for instance, you may have as little as 30 days to initiate and prepare a claim.
You may not always recognize the full extent of your injuries and may want to handle your case on your own.  But every case is different and it's always best to talk to a Brooklyn motorcycle accident attorney before proceeding.
Proving Liability
A Brooklyn personal injury attorney may ask for a copy of your medical records, including visit summaries, test results, and out-of-pocket expenses. Be sure to keep track of all related medical appointments and therapies. Maintaining a daily journal of your symptoms and how the accident has impacted your life can be helpful as well.
The Rothenberg Law Firm LLP will work to gather as much information needed to pursue your case. Including information from professional accident reconstructionists, doctors, surgeons, traffic safety instructors, collision shop workers, and others. We can also locate traffic cams, photographs, police reports, evidence from the scene, and eyewitness testimony to help prove liability.
You don't have to go through this alone. Contact a Brooklyn Motorcycle Accident Attorney at The Rothenberg Law Firm to learn more about your rights.
We guarantee a no obligation-free consultation!