Get the Facts About Bus Accidents
The Federal Motor Carrier Safety Administration (FMCSA) provides data about large truck and bus crashes. The following are facts and figures from a 2016 report on bus safety:
4,440 buses and large trucks were involved in deadly accidents in 2016, which represented a 2% increase from the previous year;

Approximately 119,000 injuries occurred in large truck and bus accidents in 2016, which increased significantly from the 97,000 injuries reported the previous year;

Inter-city buses are responsible for about 13% of all bus accidents;

Other transit buses account for about 34% of all fatal bus crashes; and

Fewer bus accidents are happening, but more fatalities and serious injuries are occurring.
Were you injured in a bus accident? You should discuss your options with a bus accident attorney as soon as you can.
People rely on buses to take them to where they need to go. They are an integral part of our daily life and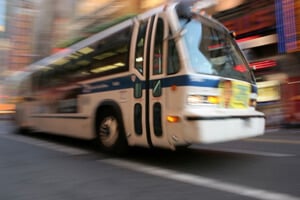 the critical foundation of the transportation system in the United States.
There are numerous bus companies that run bus lines all over the country such as Greyhound Bus, BoltBus, Vamoose, MegaBus, LuxBus and many others. Additionally there are state, city and local bus companies enabling millions and millions of people to get to their desired destinations. In 2019 the Bureau of Transportation reported that  65,000 bus crashes occurred across the United States. The Federal Motor Carrier Safety Administration reported that in that same year, there were 18,384 bus accident injuries with 312 deaths.
In November of 2019, the U.S. Department of Transportation's Federal Motor Carrier Safety Administration (FMCSA) announced that it published a proposed rule to reduce regulatory costs by $74 million per year by removing an information collection burden for commercial buses According to U.S. Transportation Secretary Elaine L. Chao, 
"This proposal is a commonsense way to reduce unnecessary burdensome regulatory costs while ensuring the highest level of safety on our roads," 
It remains to be seen if such cost cutting will negatively impact bus passenger safety or if it will actually result in the tragedy of even more bus accident victims!  
Common Causes of Bus Accidents 
Despite the ongoing attempts to further regulate the bus industry in order to decrease these horrific motor vehicle accidents and the number of accident victims, numerous common causes for transit bus accidents remain:
Poor and outdated equipment 

Driver fatigue

Driver error 

Speeding

Alcohol or drug use

Poor training

Distracted drivers

Improper lane changes

Failure to see the cars around them when making turns

Blind spots
In addition to the above causes, statistics provided by the National Highway Traffic Safety Administration suggests that bus drivers have limited visibility on their right side as buses often collide with other vehicles on that side.
In a February 1, 2020 report, The U.S. Department of Transportation's Federal Motor Carrier Safety Administration released data following the first weeks of operation of its Commercial Driver's License Drug and Alcohol Clearinghouse. The information released showed that "the clearinghouse has detected and identified nearly 8,000 positive substance abuse tests of commercial drivers since January 6, 2020."
While this report covers all commercial drivers and not just bus drivers of tour buses, transit buses or school buses, the report is an alarming indication of the seriousness of alcohol and drug negligence
Our Bus Accident Attorneys Advise More Safety Precautions For Riders
The Federal Motor Carrier Safety Administration (FMCSA) has an on-line tool enabling you to research the safety of your trip before making a reservation or buying a ticket.  Bus Passenger Safety Tips | FMCSA recommends that you use a company that:
Is authorized to operate. Commercial bus operators that carry passengers on trips that go outside a state must have a U.S. Department of Transportation (USDOT) number and be authorized to operate by the Federal Motor Carrier Safety Administration (FMCSA).

Regularly inspects, maintains and repairs its fleet for safety. Companies should ensure buses are in good repair, and all safety equipment works properly.

Hires well qualified, licensed drivers with good safety records, and ensures they obey all safety laws. 
School Bus Accidents, School Bus Injuries
Getting our children safely to and from school is the top priority and concerns all of us.
According to School Bus Fleet, an "estimated 471,461 yellow school buses provide transportation service daily in the United States. About 25 million elementary and secondary school children ride school buses to and from school each day. This compares to projections from the U.S. Department of Education of K-12 enrollments in Fall 2018 of about 57.2 million public school students and 6.7 million private school students." 
School Bus Fleet further cites the tragic numbers  according to the National Safety Council (NSC) tabulations of data from the National Highway Traffic Safety Administration (NHTSA) that bus-related crashes killed 117 people nationwide in 2018. 
The above report clarifies that , "A school bus-related crash is defined by NHTSA as any crash in which a vehicle, regardless of body design, used as a school bus is directly or indirectly involved. This includes incidents involving school children getting in or out of a vehicle"
Further statistics show that: "From 2009 to 2018, about 70% of the deaths in school bus-related crashes were occupants of vehicles other than the school bus, and 17% were pedestrians. About 5% were school bus passengers and 4% were school bus drivers."
Bus Accident Injuries
Depending on the accident, a bus can cause someone to have a minor bump or bruise or have a more serious injury such as broken bones. Other injuries can include, but are not limited to, 
minor scrapes, 

whiplash, 

spinal cord injuries, 

brain injuries 

and paralysis. 
While some injuries may appear to be minor at first, it is imperative for victims of bus accidents to visit the hospital to make sure that no injury is or will become life-threatening or life altering.