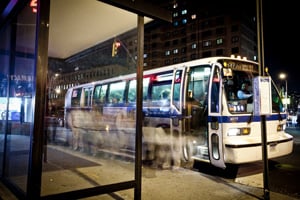 Elderly Pedestrian Sustains Fatal Injuries After Being Struck by MTA Bus
A recent article in the New York Post reported the arrest of an MTA driver involved in a fatal bus accident. The driver was arrested for his role in the deadly collision under a new law that is part of Mayor de Blasio's Vision Zero challenge in New York City. Vision Zero is a larger-scale attempt to put an end to dangerous driving on streets throughout the five boroughs by increasing NYPD presence on the streets and doling out serious consequences to drivers who fail to obey the law.
The bus driver had been driving for the MTA for the past 7 years and has maintained a clean driving record. Witnesses indicated that he was "devastated" after the accident, but was arrested at the hospital where he was being treated for minor injuries. What were the charges against the MTA driver? Under the Vision Zero plan, he was charged with "failing to yield to a pedestrian," which is now a misdemeanor crime in New York City. Prior to the Vision Zero challenge, failing to yield to a pedestrian was only a "violation" under the law.
Other MTA drivers are not happy about the arrest, and many have protested by refusing to drive their bus routes. Even the arresting officers reportedly told the driver, "this is ridiculous, but we have orders and we have to follow them."
Should the driver have been arrested for his role in the accident? Supporters of the Vision Zero program argue that as of now, statistics suggest that Vision Zero has resulted in "a 14 percent drop in bus crashes involving pedestrians in 2014." However, others argue that the program is still too new to determine if arresting a driver for a traffic violation will in fact reduce the rate of pedestrian injuries.
Bus Accident Statistics
When compared with passenger vehicle accidents, fewer people sustain fatal injuries in bus accidents each year. Indeed, according to a study conducted by the National Transportation Safety Board in 2011, the annual bus occupant fatality rate is "45 deaths per 100,000 accidents compared with 251 deaths per 100,000 accidents for passenger car occupants." But how many bus accidents occur each year, and how many people suffer injuries as a result?
A report from the University of Michigan's Transportation Research Institute identified some of the following statistics about bus accidents and injuries:
Approximately 63,000 buses are involved in traffic collisions each year, including school buses, tour motor coaches, charter buses, and intra-city buses like the MTA one cited in the recent accident.
Of those 63,000 buses involved in accidents, about 14,000 crashes result in personal injuries, while only about 325, on average, lead to fatal injuries.
Of the fatal injuries reported, about 15 percent are passengers on the bus or the driver. The remaining fatal injuries typically involve pedestrians or passengers in other vehicles.
Surveying the types of buses involved in these accidents, inter-city buses are more likely than others (by nearly 2 percent) to be involved in an accident.